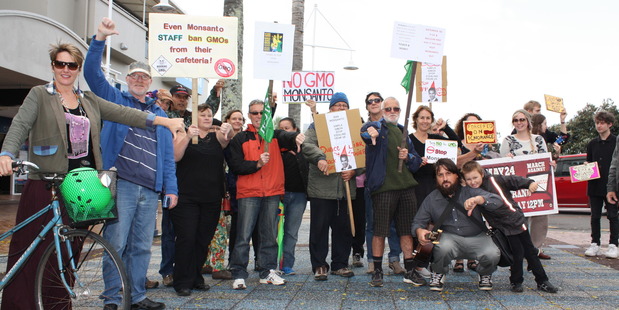 A group of concerned locals gathered in Tauranga's Red Square this afternoon as part of the protest 'March against Monsanto', happening across the world today.
The international protest calls for the permanent boycott of genetically modified organisms and other harmful agro-chemicals.
Monsanto is an agricultural company, with 404 facilities in 66 countries, producing agricultural and vegetable seeds, plant biotechnology traits and crop protection chemicals.
About 20 people met on The Strand at midday before marching to Red Square with signs, chanting "Say no to GMO. Stop Monsanto".
Protest organiser Marty Stewart, who also hosted the Trans Pacific Partnership Agreement protest in March this year, said today's gathering was a way to raise awareness on the issue of genetically engineered food.
"Just getting more awareness of the issue of GE needing to be removed from our food chain," he said.
Among the crowd was agricultural researcher and writer Jodie Bruning, who said she was supporting the protest for her childrens' future.
"All I want is for my kids to have the same healthy food their baby-boomer grandparents had.
"Our food for our children isn't what it was," she said.
The protest march was expected to be hosted in 52 countries, with events in more than 400 cities today.