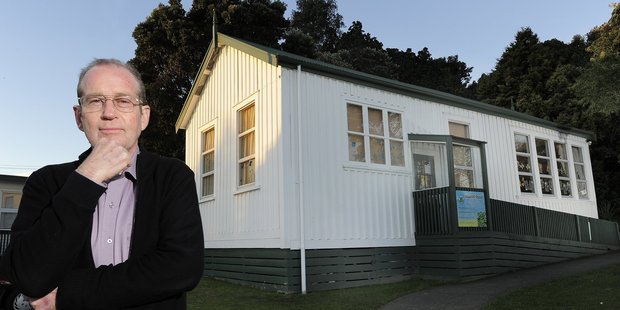 Tauranga has been asked to rally behind keeping Otumoetai's 116-year-old classroom on its original site before a deal was sewn up for it to be shifted to the Historic Village.
A group of residents desperate to keep the classroom in its historic context by staying on the Otumoetai Primary School grounds is launching a campaign to pressure the school's board of trustees into reversing the decision.
"This is the last throw of the dice," former pupil Ross List told the Bay of Plenty Times.
The group is urging people, through an advertising campaign starting Friday, to make their thoughts known to principal Geoff Opie and board chairwoman Jackie Webb before the tender process to shift the classroom was completed by the end of the month. It is understood the village has been offered the building.
Historic Village team leader Michael Thomson said its winning tender was conditional on it finding a way to fund the relocation and re-establishment of the classroom.
The village was working with a prospective tenant to raise the money.
The tender process was being handled by Land Information NZ on behalf of the Ministry of Education which was acting on instructions from the board of trustees.
Mr Thomson said the village was working with the prospective tenant on a couple of locations but would not go into detail. "We need to discuss all options without constraint to get the right outcome for everyone."
Shifting the classroom to the village was the best choice because it would be among buildings of a similar character and could be used by the community, he said. However, Mr Thomson stressed no one was looking to negate efforts to keep the building on the school grounds.
The protest campaign, led by a group mainly of former pupils argued the classroom should stay at the school because of its cultural and heritage importance, not only for present pupils and teachers but the thousands of others who had passed through its doors.
The group's members said they were appalled that the site of such an irreplaceable heritage building would become a playground, saying they were not given the chance - despite repeated requests - to explain their proposal more fully.
Mr Opie said he was happy the classroom was going to the Historic Village.