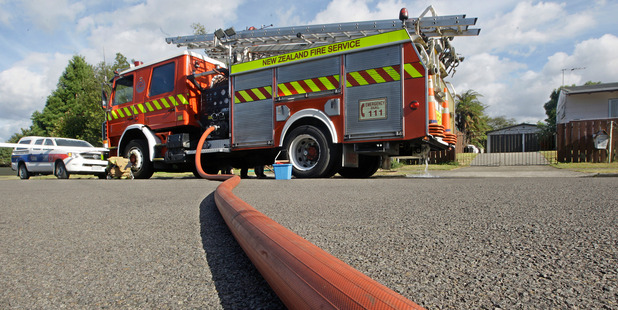 UPDATE 4.55pm: A Mount Maunganui woman says she's lucky to be alive after a gas cooker exploded in her kitchen this morning, smashing 40 per cent of her windows, bringing tiles down off her roof and breaking down internal walls.
She arrived home this afternoon after discharging herself from Hospital. She said she was ok but feeling "a bit jittery" looking at her home of 18 years.
"Looking at that mess, that's my home," she said.
She had been using her gas cooker to boil water while the power was out and said she had sat it on the stove top as it was a safe surface to handle heat.
She said she could not understand how the explosion had happened, and did not believe the element was on.
"It must have been to do with the power coming back on.
"I was in the kitchen with my back to the stove.
"I've just got a bit of burnt hair. I'm very lucky" she said.

EARLIER 12.40: A gas cooker sitting on a stove was the cause of an explosion in a Mount Maunganui home this morning, leaving a woman with burns to her face and hair.
Mount fire station officer Lindsay Nicol said they were called to a house in Jasmine Place for reports of an oven fire that had already been put out.
"I walked up the driveway and saw all the damage and thought it was definitely not an oven fire."
He said about 40 per cent of the windows had been blown out, leaving glass everywhere, as well as window frames and door frames.
He said the woman had pulled out her camp gas cooker to boil some water while the power was out and had left it sitting on the stove.
"Basically the canister has exploded, the liquid inside would've turned into a gas and the heat of the element would've ignited the gas.
"It has caused considerable damage to the house. The pot that was sitting on top of the cooker has been embedded into the roof above the stove.
"The cooker has projected downwards and shattered the stove top.
He said the woman was standing about three metres away with her back to the stove at the time of the explosion.
"She has suffered superficial burns to her hair and the side of her face.
"The lady has been extremely lucky. There had definitely been a fire ball of some sort.
He said the explosion caused a sudden increase in pressure which had blown out the windows and could also damage people's internal organs.
She has been taken to Tauranga Hospital for further assessment.