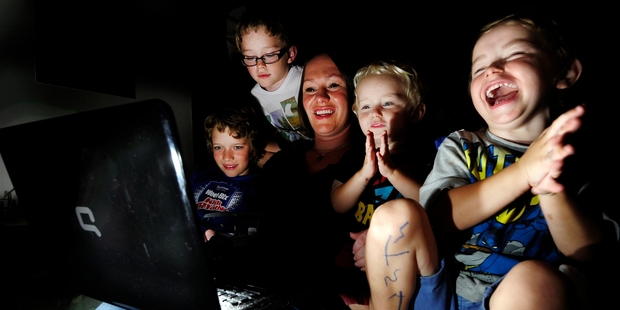 When Megan Alderson moved back to New Zealand from the UK with her husband Chris and four boys, their television didn't come with them.
"We had one of those big, old-fashioned ones. There was no point bringing it over," says Megan.
Ten months later and they still haven't got one, despite Chris managing Harvey Norman's Mount Maunganui warehouse.
"It started that we hadn't got round to getting one. There were other things we were doing and buying. But a month or two into it we thought, this is quite nice," she says.
They get their fix by watching DVDs on their laptop, but the number of hours they spend in front of a screen has reduced drastically.
And, says Megan, they are reaping the benefits.
The kids are less agitated, more energetic and play outside more.
"We are talking a bit more, doing things with the boys. I feel I've got more time with them. I don't know how we found time for television before that," she says.
"They don't have behaviour issues but there's been a change ... they are interacting a lot better with each other."
Previously, they would put the TV on before dinner for the kids and watch it themselves afterwards.
"Sometimes you're watching a programme and that ends and you end up watching the next one and a whole evening can be used up watching junk television," says Megan.
"It's nice not focusing on TV."
The Alderson's story would be music to the ears of two Otago University researchers who this week called for government intervention to stop children watching so much television.
Writing in the international Journal of Epidemiology and Community Health, Dr Robert Hancox and Dr Helena McAnally said it would be a "step in the right direction" if similar actions were taken as those to curb smoking.
Their comments are in the wake of a Swedish study that correlates childhood TV watching with adult metabolic syndrome - obesity, high blood pressure, hypertension and diabetes.
Dr Hancox says he doesn't know what form government intervention should take but that something needs to be done.
"I think society at large and the Government need to think about it," he told Bay of Plenty Times Weekend.
"We have been saying for some time that children should reduce the amount of time they watch television but we know for other health issues, like smoking, simply telling people it's bad is not enough to change behaviour."
That includes all screen time, although television is still "number one", he adds.
"Education is important but, on its own, it's not enough. It needs to be backed up by some practical help. I don't necessarily know what that looks like. It's a study I would like to do. It's a really big issue for society."
Kirsty Carling, Sport Bay of Plenty early childhood project co-ordinator, is passionate about getting kids moving.
"The best stuff is the old-school stuff - skipping, stuck in the mud, French cricket. It doesn't cost a lot of money and it's all the stuff that parents remember," she says.
"What I've found is that when you're talking about very young children, you do need time to input. If you spend some time setting up the game, or doing the game or activity, what happens later on is that they will do it by themselves. You might have to spend some time initially with them but there are benefits later."
Television is often seen as an easy option, but when it is over-used children don't develop the skills to entertain themselves, she adds.
"They get bored and they don't know what to do."
Carling agrees that the knowledge is there, but the problem is often putting it into practice.
"If you ask people, everybody says they would like their children to be outside playing. If you want your children to be outside, you've got to give them the skills and the love [of playing outside]. When they're 6, it's a lot more difficult than when they're 3."
Technology is just as detrimental as television, she says.
"It is contributing to sedentary behaviour. There's a huge amount of pressure. Parents think their kids need to know this stuff but that's not actually right. I'm old enough to remember the first mobile phone and I never had a smartphone and nobody at any stage has sat down with me for three hours a day and taught me how to use my smartphone. They don't need to be taught this stuff," says Ms Carling.
"It goes against the wiring of the brain. They need to develop their big movement skills. You have to learn to use these muscle groups and these movements before fine motor skills."
Tauranga child psychotherapist Augustina Driessen says children need to be outside doing physical activities after school.
"Television is very damaging physically and mentally," she says.
"Lots of children have anxiety because of it. There is no eye contact. The more television they watch, the more difficult it becomes to look at their parents."
Driessen says children can become angry, aggressive and sleep deprived from too much television.
"The cortisol level goes up and so neurons in the brain can't develop," she says. "It has terrible effects. I've been fighting it for years now."
As well as the negative impact on health from being sedentary, the stress caused by television can also lead to ill health, says Ms Driessen.
"The body and mind are very close together and they work together."