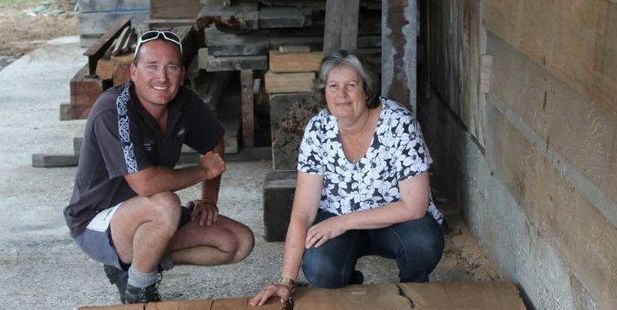 Native timber almost 5000 years old will be used in a formal carving to be placed in the hall at Katikati College.
The river totara sourced from the Manawatu region has been donated to the school by the Doug and Flo Baker family, together with Todd Uttinger from ATD Stonemasons.
Valued at more than $2000 the two 4.4m long slabs of totara have been carbon-dated and will be specially carved to go inside the school hall.
College principal Neil Harray approached long-time timber merchant Val Baker for help to source timber for the project.
"As always, Val was really supportive and generous with her time and her ability to source suitable wood."
In the past Val's late father, Doug Baker, had found totara for local marae - Rereatukahia, Otawhiwhi and others, and for the waka on display at The Strand in Tauranga. The Bakers also supplied totara for the Katikati College sign at the front of the school.
The college is now in the initial stages of looking at the placement of the carvings, the design and a timeline to get the job done.
Two carvings used to stand at either side of the stage in the hall. Neil says the stage was a traditional type of school stage and the carvings were prominent. When the hall was refurbished and the stage removed to create a more usable space, the carvings were moved into Poutama, the Maori studies classroom and whare wananga.
Neil felt that while it was great that the carvings had a special place to be housed, most of the school and community missed out on seeing this part of the school's history.
"They are important pieces of work."
Neil is keen to see something in the hall again, just as it had been for 20 years previously, and is working with teacher Jo'el Komene to oversee the project. Jo'el is a highly regarded carver in his own right, but a local carver will do the majority of the work.
"It is early days but we have the wood and are making progress. It will be great when it is done," Neil says.
He praised Val and Todd for their assistance and support. Val says the Baker family is proud to try and help the school out wherever possible. Todd, whose father tracked down the timber, was keen to share the costs of the timber and be a part of the project.