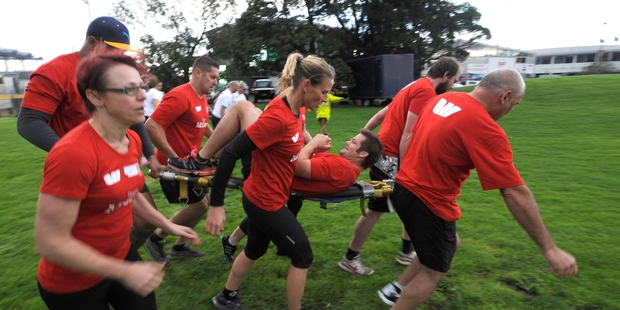 Bethlehem's Vanessa Quin teamed up with Richie McCaw in a head-to-head battle against Sir John Kirwan as the rugby greats competed in a boot camp for the country's rescue helicopters.
Yesterday's showdown involved two hours of physical and mental challenges, which the chopper rescue crews deal with on a daily basis.
The aim of the boot camp was to help raise awareness of the services during the Westpac Chopper Appeal this month.
Ms Quin was one of 12 people selected to join either Team Kirwan or Team McCaw after registering in a nationwide Facebook competition. Both teams faced challenges such as helicopter underwater escape training, CPR drills, rope climbing, a simulated winch rescue swim, 3.3km run and a stretcher run.
The 37-year-old said her husband Niki was rescued by a helicopter after a motocross accident in Australia in 2002.
"He suffered huge internal injuries and a spinal injury," she said. "Without the help of the helicopter rescue team he would not have survived so we are forever grateful to them."
Ms Quin said the day had been fantastic. "It's been great to meet so many people from all over New Zealand with stories about the rescue chopper. The icing on the cake has been meeting Richie and JK - it's been a great experience."
In the end, Team Kirwan won 4-2, and the winning teammates got to enjoy a dinner with Kirwan and McCaw at an Auckland restaurant.
Contributions to fundraising for local rescue helicopter services can be made at any Westpac Branch or online at www.chopperappeal.co.nz.