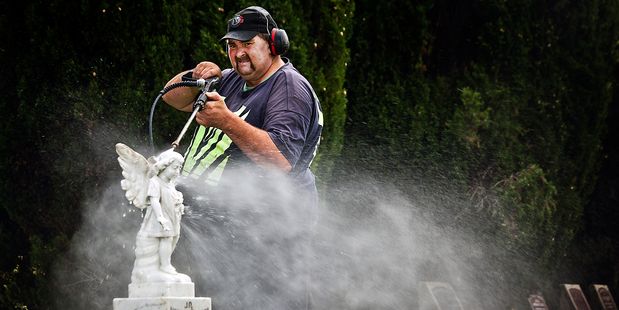 An unemployed Tauranga man who took it upon himself to clean graves at a Tauranga cemetery has been ordered to stop.
Kelly McLean, 46, began waterblasting headstones at the Presbyterian Cemetery on 18th Ave this week as a way of giving back to the city he loves but the Tauranga City Council later asked him to leave the graves alone because they were private property and waterblasting could damage them.
Bay of Plenty Times reader Stephen Picards phoned the newspaper earlier this week to praise his good deed. The paper decided to do a story on him to recognise the work he was doing. The Gate Pa man, who has worked as a truck driver, on the wharf and in waste management, said he decided to make the most of the extra time he had while looking for a job.
"It's hard to get a job so I might as well do this. It gets me out of the house," he said.
He spent about six hours waterblasting on Monday and got in another couple of hours on Tuesday.
Mr McLean enjoyed doing something for the city.
After interviewing Mr McLean, the Bay of Plenty Times contacted Tauranga City Council for comment. The council later said it had told Mr McLean to stop.
Tauranga City Council communications manager Frank Begley said, "The reason we asked him to stop waterblasting is because this is not a good way to maintain these types of historic monuments. In fact, the high pressure water can actually damage the headstones' surface and inscriptions.
"The other reason for asking him to stop is because the headstones are private property, belonging to the families of the deceased, and permission needs to be sought before any maintenance work of this sort can take place."
Mr Begley said he was happy to talk to Mr McLean about other ways he could volunteer his services to the community.
Mr McLean said the council's decision was "just stupid".
"I've had people come across the road saying, 'you're doing a good job, keep it up'," he said.
Mr McLean said he enjoyed waterblasting and hoped to get a paid job doing it but was shocked to be told to leave.
Bay of Plenty regional councillor for Mauao Maori Awanui Black said he did not believe Mr McLean would have broken any tapu and was impressed someone had taken the initiative and given up their time to spruce up the cemetery.