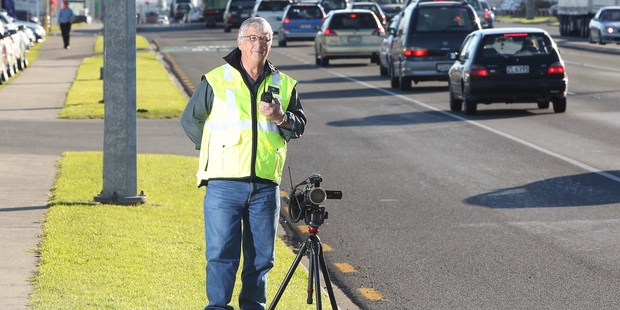 Almost 800 tickets have been issued to drivers snapped using a Tauranga bus lane in the past five years.
Tauranga City Council employs people to sit on the side of Hewletts Rd for a couple of hours, two or three mornings a week, to film people illegally driving in the bus lane.
Council parking team leader Kevin Nally said 775 tickets had been issued since staff started monitoring traffic heading towards downtown Tauranga in April 2009.
Between July 2013 and April this year, 168 tickets were issued.
Mr Nally said that of those, 63 had been paid, 33 had been waived and 72 were "still going through the process".
Some of the remaining tickets could yet be waived, he said.
The fine for being caught in a bus lane was $150.
"Quite a few of those have been waived. That doesn't mount up to a whole lot over a year. It's about 170 or 180," he said. "We can pop up any day in any zone."
Mr Nally said the New Zealand Transport Agency installed the bus lanes for the purpose of uninterrupted traffic flow for buses into the city so it was up to the council to make sure it was being used properly.
"There seems to be a general lack of understanding that the law only allows you to cross a bus lane to turn into a side road or vehicle access," he said.
Private cars are not allowed to be in a bus lane for more than 50m but the council had tacked on an additional 20m tolerance.
Motorbikes, cyclists and emergency vehicles were also allowed to use bus lanes, he said.
Mr Nally recommended people cross bus lanes as they would to turn into a driveway.
There seemed to have been no real improvement in the behaviour of motorists during the years of enforcement, he said.
"It's very erratic. Some days there's virtually no-one doing it, other days there's quite a lot. You notice a difference with school holidays or if there's congestion."
"If the traffic is hardly moving, people are inclined to take a risk and jump out into the bus lane. Hopefully the word will get around."
Mr Nally said staff often saw people start to move into the bus lane before seeing the camera and pulling back into the queue of traffic.
The council agreed to waive fines for people who had a genuine reason for being in the bus lane, he said.
"Quite a few do write in because some of them are confused by the rules, or say they are, or had a genuine reason," he said. "I think most of it's ignorance of the law."
Mr Nally recounted one occasion where a man was heard yelling at the camera operator as he zoomed by in the bus lane.
The driver later appealed the ticket and had the fine waived after explaining his wife was in labour and he was on the way to hospital. The couple did not make it in time and the child was born in the car on Cameron Rd.
It is also illegal to park in a bus lane an offence that could incur a $60 fine.