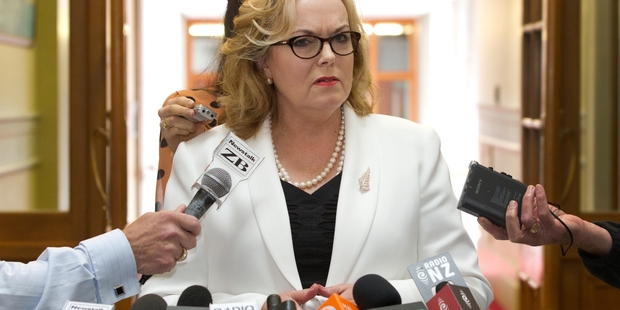 I like Judith Collins. I do. The Oravida visit was ill-advised. She has had a bit of a public meltdown this week attacking the media. But her opposition has been unable to come up with anything new, and allegations of her making personal gain have been unsubstantiated.
The public is tiring of the witch-hunt. Just months from the election, Labour's wish to cling on to this exposes it as weak. What happened to policies?
I like her new tortoiseshell glasses too. So does comedian Dai Henwood who tweeted "I really like Judith Collins' glasses". People tweeted back. I want a pair like them. With the help of Google I can find out what brand they are.
What did we do before social media? It can be so useful, but also so damaging.
When Collins was advised by Prime Minister John Key to take some time out she - notably - has also sworn off Twitter, saying it's "not a good space to be (in)".
Key says it has been "a big factor" in her mounting problems given that social media was full of trolls and bottom feeders.
"In the end they get in people's heads. It's an anonymous sort of situation, a form of cyberbullying. I don't engage in that."
True, it doesn't seem appropriate for a minister like Collins to engage in a combative style on Twitter. She has allowed the trolls to get the better of her.
But if social media has contributed to her unraveling, at least it hasn't exposed her literally. Unlike the Warriors' Konrad Hurrell.
First All Black Aaron Smith's nude selfie went viral. Now this week Konrad Hurrell and Shortland Street actress Tueila Blakely find themselves in the public eye after a 'sex tape' of them in a car was leaked.
Exposing oneself online is not just confined to sportspeople. US politician Anthony Weiner resigned from Congress after sending sexually suggestive messages that he thought were private. Queensland MP, and chairman of the parliamentary ethics committee, Peter Dowling, decided (bizarrely) to plonk his member in a glass of pinot noir and text a photo of it to a woman who subsequently sent it on.
The Edge morning radio host Dom Harvey sent a photo of his genitals to London Paralympic gold medallist Sophie Pascoe although he said it was a mistake as he meant it for another Sophie.
It is not just those in the public eye but 'everyday people'. In the UK, a poll by market researchers YouGov last month revealed 21 per cent of British adults under 40 have had sex in front of a camera of some kind, while three in ten have taken nude photos of themselves.
Another survey, CyberCompare, reported by the UK's Daily Mail, found that one in three men and women over 18 surveyed admitted to sending sexts, explicit photos on Snapchat or in chatrooms, or using webcams and videophones to have cyber sex.
An Australian study of 2000 teenagers aged between 15 and 18 released this week said "sexting and sending explicit photos by smart phone is now a common part of teenage sexual behaviour.
Fifty-four per cent of surveyed students reported receiving a sexually explicit text message and 26 per cent reported sending a sexually explicit photo of themselves.
These percentages increase among sexually active students with 84 per cent saying that they had received a sexually explicit text and 72 per cent had sent one.
Half on this group said they had sent a nude or explicit photo of themselves.
Lead researcher in the study, Professor Anne Mitchell, said the statistics sent a clear message to parents and policy-makers that "technology is here to stay, with smart phones and social media used almost universally among teenagers".
The power of social media chimed again last weekend, when on the day 26-year-old Bay mother-of-two Tracey O'Brien died in a car crash that also injured her two children, commentary from her friends about her death was immediately visible on social media.
Even on the same night she died, her former partner and father of the children, Matt Ruddell, posted on Facebook, but his first post was not about the accident itself, but how the news had spread.
"This is surreal this ain't happening and for those of u that think social media is a farce!!!!! Wild fire is all I can't say wow."
The following evening when a Bay of Plenty Times reporter turned up at Mount Mellick where Ms O'Brien's friends had gathered they said they were not ready to talk. While we respected their views and left them in peace, it did make me ponder.
For when people publish everything on Facebook without privacy settings, they are in fact 'talking' to the whole world, in print, which can last forever.
And in this context, Mr Ruddell's theory that he posted not once, but twice about the crash "Nvr text and drive", seemed in my view something potentially that could have far-reaching - and lasting - consequences.
While social media is well and truly here to stay, the risk of overexposure is only going to increase for people from all walks of life.
Whether you are Judith Collins scrapping with trolls on Twitter or an elderly politician who makes unusual spritzers with wine. Whether you are a sports hero or an actress, or young teens at school.
People are not going to stop engaging with social media, but at least they can engage the brain, and think before pressing the keyboard.