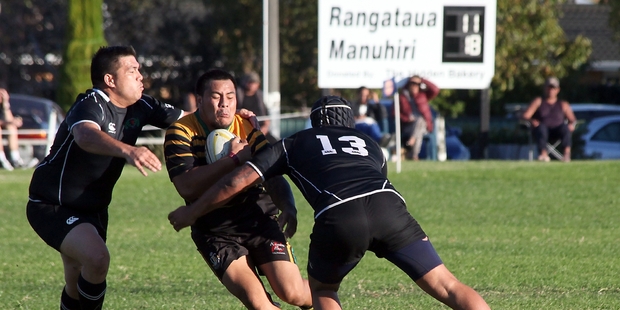 Defending champions Tauranga Sports were upset 17-14 at home by Rotoiti as Te Puke Sports regained the lead in the Baywide premier title race.
Te Puke beat Whakarewarewa 46-38 in a game where 13 tries were dotted down. Te Puke's Dan Hollinshead opened the scoring with a try after just two minutes, and his side added two more to jump out to a 14-5 lead.
Whakarewarewa led 26-24 at the half way stage of the encounter, with the two teams then trading tries. With the clock ticking down the try tally was six apiece, before Te Puke crossed again to post an 8-point victory and deny Whaka a second bonus point. Gideon Uelese grabbed a double for the winners, with Siegfried Fisi-ihoi running in two tries for the Rotorua team.
Mount Maunganui climbed into second place on the standings, with a bonus point, four try victory in Opotiki. Sam Mayes, Sam Hughes, Chris Croasdale and a penalty try, along with three conversions, gave the visitors a 26-8 win over the Eastern Bay of Plenty side.
The Opotiki points came from a try awarded to Maika Smith with McKenzie McGougan slotting a penalty.
Rangiuru, who earned promotion to the premier ranks after winning the Division One competition last season, put their first points on the board this year, when they drew with Te Puna at Maramatanga Park. Rangiuru fullback Ngatai Kingi jinked his way past the Te Puna defenders to score under the posts after 18 minutes, with Te Puna bouncing back with a try to Sam Phipps, who finished off a forward drive on the line. Te Puna led 13-10 at halftime, with the two teams trading penalty goals in the second spell. Trailing by three, Ngatai Kingi nailed his third attempt in the last play of the encounter, to see the game end at 22-22.
Rototiti won an 17-14 arm wrestle with defending premier titleholders Tauranga Sports at the Tauranga Domain. Greerton Marist came back from an eight point deficit after 40 minutes, to hold Rangataua scoreless in the second half, winning 25-11.