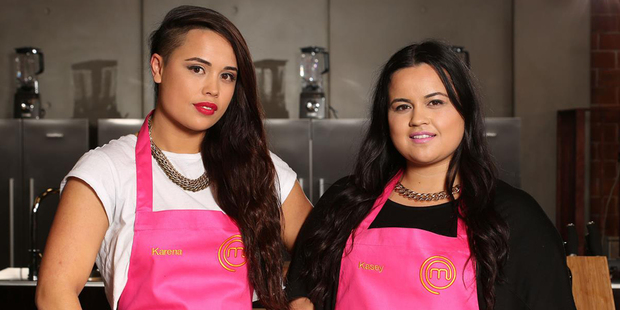 Tears of joy flowed when Maketu sisters Kasey and Karena Bird were announced winners of MasterChef New Zealand 2014 last night after losing the first challenge and drawing the second.
After being announced the winners, Kasey uttered, "holey moley" and Karena burst into tears.
"I can't believe it," sobbed Karena. "It's just been such a long journey, but it's all been worth it. I'm so proud of Kasey and the fact we got to do it together. It's the best feeling I've ever had in my life."
In the first challenge, the finalists were given two hours to make warm lobster with ricotta gnudis and butternut puree, and a roast baby lamb dish featuring four different cuts of lamb with caramelised yoghurt and vegetables.
Arrowtown friends Bec Stanley and Jaimie Stodler won the challenge, scoring nine out of 10 points for both.
Kasey and Karena were awarded eight points for their 'slightly mushy' crayfish, and eight for their lamb.
The contestants then headed to judge Josh Emett's new Queenstown restaurant, Madame Woo, where they prepared and served Asian-style hors d'oeuvres for 180 VIP guests, invited to the restaurant's grand opening. Both duos were awarded 18 points out of 20 for the food they produced.
Finally they were given three hours to cook three of the judges' own dishes a complicated spin on a ham, cheese and tomato sandwich made with kuzu bread, Iberico ham, tomato jam, spaghetti mozzarella, olive oil caviar and walnut snow, accompanied by gazpacho consomme jelly with a burrata sphere; pork fillet wrapped in savoy cabbage with a braised pig's head terrine, buttercup and maple puree, caramelised onion petals, asparagus, sugar snap peas and a mustard seed pickle; and a chocolate trifle cake with layers of chocolate sponge, chocolate custard, prunes and strawberries marinated in sherry, whipped cream and chocolate curls.
Bec and Jaimie's chocolate sponge was awarded 14 out of 20 points. Their pork main was a little overcooked and earned 18 points while their entree was missing basil and the buratta sphere, and scored 15 out of 20. In all they scored 83 points.
Kasey and Karena's dessert was dubbed "a very handsome gateau", with a "perfect" sponge and "beautifully marinated prunes". It was awarded 16 points. Their main also scored 16 points and their entree scored the full 20 points, taking their total to a winning 86 points.
Their $100,000 prize package includes two Skoda Rapid Spaceback cars, $15,000 worth of designer kitchen appliances from Fisher and Paykel, $5000 in kitchenware courtesy of Stevens, $15,000 worth of groceries from Countdown and an exclusive MasterChef cookbook deal.