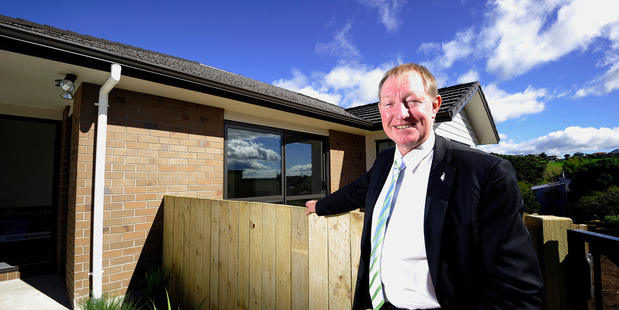 The end is in sight for a Tauranga mother whose family has had to rely on the care of Women's Refuge.
The solo mother and her five children will be the second of six families to move into new Housing New Zealand homes in Welcome Bay.
The family will move into a $387,000 four-bedroom house on Vanderbilt Pl as soon as it gets the final sign-off from Tauranga City Council. The other four houses will be completed and occupied by the end of June.
Housing Minister Nick Smith was in Tauranga yesterday to officially open the new development.
"The new homes are fully insulated, have double glazing and are well-positioned to soak up the Bay of Plenty sun. They are also designed to meet the demands of larger families and smaller families being four- and two-bedroomed, because this is where the shortage of social housing in Tauranga lies," he said.
"The new homes are part of HNZC's $3 billion capital investment programme across the country to improve the quality of its housing and to better match its tenants' needs in terms of location and size.
"We've got too many three-bedroom houses and not enough twos and fours."
At the end of March there were 160 families waiting for a spot in one of the 1600 Housing New Zealand homes in Tauranga. Housing New Zealand had also bought 12 other properties in Tauranga in the last 12 months - one five-bedroom house, two four-bedroom houses and nine two-bedroom houses.
Ensuring houses were insulated and warm was also a focus, Mr Smith said. Nationwide 40,000 of Housing New Zealand's 69,000 houses had been insulated, including 800 in Tauranga.
Tauranga Women's Refuge manager Angela Warren-Clark agreed there was a "huge need" for housing in Tauranga.
"Poverty is such a huge issue in the city and domestic violence is such a huge issue so they are often in tandem," she said.
The refuge was constantly having to turn down calls asking if it could temporarily house families struggling to find a home, she said. She was hopeful a review of the eligibility of those currently in state houses would free up more homes for those most in need.