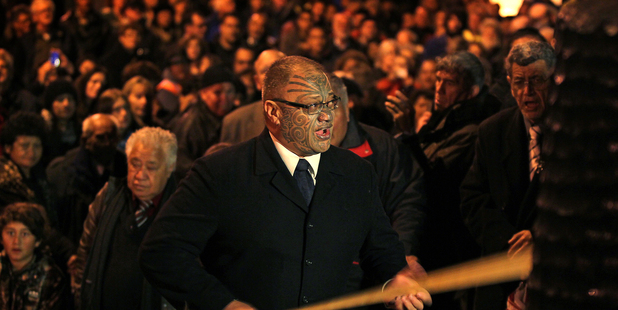 The relative obscurity of Tauranga's historic Gate Pa battle site has been finally erased 150 years after the history-defining clash in which heavily outgunned and outnumbered Maori warriors repulsed English troops.
Yesterday's dawn blessing of the pou and new flagpole at Pukehinahina Reserve, the site of the Battle of Gate Pa, was a commemoration of the day in which so many lost lives and the emerging spirit of reconciliation a century and a half later.
A damp blanket of rain shrouded proceedings, lifting briefly as if on command for the blessings of each of the eight pou or wooden carved posts facing Cameron Rd.
Umbrellas were needed for the last segment of the ceremony as rain was beating down on the blessings for the new flagpole and pou carved from the stumps of two totara felled on either side of the flagpole and memorial.
The weather was no deterrent for more than 1500 people who witnessed one of the most significant commemorations in the modern history of Tauranga because of the symbolism of the pou and flagpole.
The pou looking out to Cameron Rd represented the people who fought in the battle which shaped Tauranga, with one bearing a striking resemblance to General Cameron, who led the English soldiers. Other pou signified the Judea-based hapu Ngaitamarawaho, Tauranga Moana iwi and the rest of the Bay's iwi who lost warriors in the battle.
The spirit of reconciliation after the huge reverses and land losses suffered by Maori after their victory was signified by the raising of the Union Jack and the Maori flag on either side but linked to the New Zealand flag hung on the main higher pole.
Ngaitamarawaho kaumatua Des Tata said the pou and flagpole had lifted the profile of the hillside battle site which was where Tauranga started. "It has been obscured in our history."
Puhirake Ihaka of Ngai Te Rangi Iwi told the Bay of Plenty Times afterwards that the speeches in te reo Maori had focused on the welcoming of Maori and pakeha as one people coming together for this occasion.
Both sides of the conflict were supporting each other to create a sense of commemoration, even through the tears of sorrow and mourning.