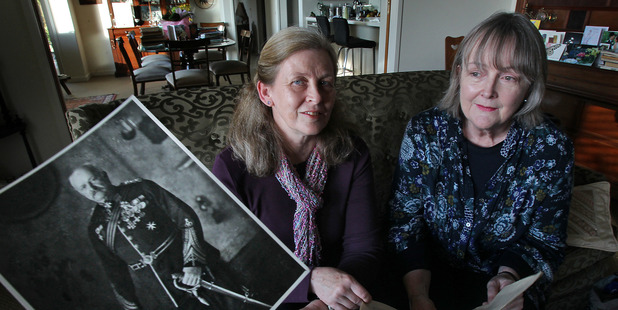 Two descendants of a Victoria Cross winner have travelled from overseas for the Battle of Gate Pa commemorations.
William Manley's great-granddaughters have travelled from Britain to see where their ancestor earned his Victoria Cross.
Dr Manley, an assistant surgeon with the Royal Artillery, was the only one of nine officers who had dinner at The Elms the night before the battle, to survive the assault.
He was awarded the Victoria Cross for trying to save the life of the mortally wounded Commander George Hay, and then returning to the pa to look for more wounded.
Frances Luxton and Gillian Manley have been in Tauranga since last week and had been touring historic sites related to the Battle of Gate Pa.
Mrs Luxton is a descendant of Dr Manley's eldest son and Miss Manley of his fifth son.
They travelled to Tauranga to attend the services after Miss Manley received an invitation to visit the country from her mother's cousin, Dawn Davenport. They attended last night's commemoration dinner at Trinity Wharf and were excited about watching today's services, particularly the Maori cultural elements.
"I've only ever seen the haka on TV before a rugby game so I'm quite excited to see that," Miss Manley said. "It's quite special because we've both been brought up with it by our dads, our family is very proud of him [Dr Manley], but he wouldn't have wanted a big fuss. "
The women visited The Elms on Saturday after watching the military re-enactment at Tauranga Domain.
Miss Manley described the visit as "atmospheric", particularly after viewing the dining table her great-grandfather ate around before the battle.
Dr Manley retired in 1884 as Surgeon General of the Army. He died in 1901.