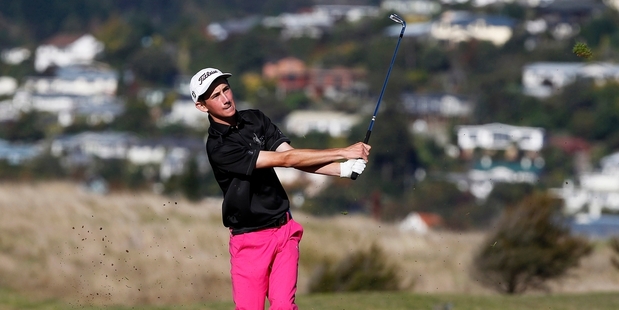 Bailey Smith's rise up the amateur golfing ranks continues unabated after his excellent efforts at the New Zealand Amateur Championship that finished yesterday at the Nelson Golf Club.
The 17-year-old from the Mount Maunganui club pushed Aucklander Tae Koh all the way in Saturday's gripping semifinal before succumbing 2/1. Koh, 19, was attempting to become the first Kiwi golfer to win both the New Zealand and Australian titles in the same year, but lost in a play-off in the final to Joshua Munn last evening.
Earlier Smith disposed of Lachie McDonald 2/1 and Alex Neely 2/1 and was happy with how he played against Koh.
"It was good to test myself against one of the better amateurs in New Zealand and it was a really tough game," Smith said. "He played really well and I think he has a huge future. I went out thinking I had nothing to lose and just gave it everything.
"I knew he had to make lots of birdies so I played pretty aggressive and played the best I have all week against him. I played pretty solid in the second round of the qualifying but then once I got into the matchplay I did just enough.
"I didn't make a whole lot of mistakes and made a few birdies at the end.
"In the first three games I was losing most of the way so it's pretty good to win them."
Smith is coached by Mount Maunganui Golf club's head professional Robert Rookes, who says his young charge learned how to battle through and still get results.
"He just took it a shot at a time and went through his processes," Rookes said. "He texted me after the second round and said he really wanted to win this thing. So his attitude is not about trying to do well and achieving what people perceive to be his level now; he is trying to win these things."
Smith is looking forward to going to America for the junior worlds in July and making the NZ Under-19 team to contest the Youth Olympics Games in Nanjing in August.
But making the Bay of Plenty team for the Toro Interprovincials in December is always in the back of his mind. "Hopefully I can make the team. Bay of Plenty has a very good culture that's for sure. Certainly they are good at winning."