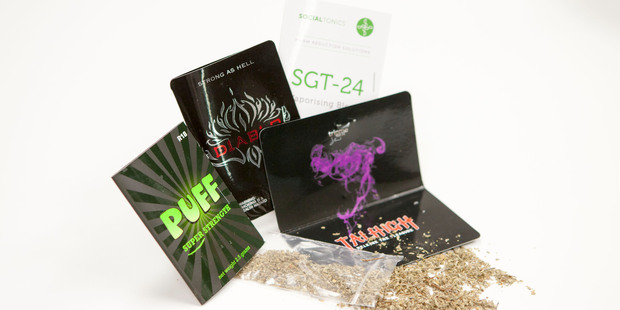 A government announcement it will ban all synthetic drugs until they are proven to be low-risk has been welcomed in Tauranga as a major game changer.
However, there are also fears it could create a black market.
Associate Health Minister Peter Dunne last night revealed the Government would ban legal highs within two weeks until they could be proven to be low-risk.
Mr Dunne said the public concern of recent weeks had led him to revisit the issue and he had been working on the legislation for some time.
The move followed several protests and petitions from the Western Bay community and others throughout New Zealand against the sale of the product.
Western Bay Mayor Ross Paterson welcomed the news after organising a 4000-strong referendum calling for a ban.
"I think the community has well articulated what they want and I think they will get it."
Mr Paterson was to join Tauranga Mayor Stuart Crosby and Tauranga MP Simon Bridges in a community meeting about the drugs planned for Wednesday.
Organiser Margaret Murray- Benge said she hoped the meeting would go ahead despite Mr Dunne's announcement.
Mrs Murray-Benge said she was sceptical of the Government announcement after previous appeals had been ignored.
"They all voted for it, so for them to now stand there and 'tut tut' it, it's a joke.
"I will be watching very closely," she said.
Fellow meeting co-ordinator Mike Mills said he jumped up and down when he learned the news. "This is a game changer. To completely take it off the shelves, that's pretty good. "That's exactly what we were going to ask for at our meeting. I think it's a great outcome."
Tobacconist and synthetic high retailer Mike Lawrence said it was a sensible move despite the product being a top seller in his Cameron Rd Ave store. "From a retailer's perspective, we were always prepared this was going to be part of the legislation," he said.
"I'm glad they've given two weeks, because it gives me time to deal with the craziness. If it was off the shelves at midnight, there would be chaos ..."
Mr Lawrence said he believed the product would move underground because he already knew of illegal manufacturers and people selling the product from car boots. He said the result could rush police off their feet in the weeks to come.
Mayor Stuart Mr Crosby congratulated the Government.
"It's a major issue up and down New Zealand. I never accepted that by banning them it would make a bigger problem. My view is most New Zealanders are law abiding people and to legalise that drug only confuses our youth by making it safe when clearly is isn't."