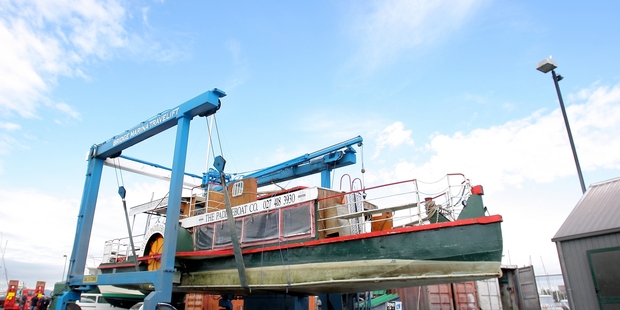 A boat owner has vowed to have his paddleboat running cruises on the Wairoa River by May 1, despite hesitations from iwi.
The paddleboat's co-owner and operator Peter Koole tried to relocate the 16m, steel hulled boat Otunui from Lake Whakamaru to the Wairoa River two days ago but put his plans on hold after coming up against iwi opposition.
The paddleboat has since been moved to Tauranga Bridge Marina where it will be launched and motored up to the Wairoa River from there.
The Wairoa River straddles the Tauranga City Council and the Western Bay of Plenty District Council boundary line and also comes under the jurisdiction of the Bay of Plenty Regional Council.
Regional Maritime operations manager Reuben Fraser said Mr Koole did not need any licences from councils to launch the paddleboat in the water but would if he started a commercial business.
"At this stage there are no requirements to get a licence from the harbour master. The trigger would be if he is going to run it as a commercial activity he would need to get approvals from city and district councils," he said.
Mr Fraser said Maritime New Zealand understood that Mr Koole's paddleboat met the safety requirements for a water bound vessel.
Tauranga City Council group communication adviser Allison Clifford said they were unable to say exactly what consents may be required and who from without seeing the business proposal.
"Depending on where the boat is launched or mainly operates from, the operator may need resource consent from one or more of the councils.
"If the operator plans to sell liquor or food there would be consents required for that."
However if complaints about the business relate to something happening within the TCC boundary the council would follow them up as usual and determine the next steps, she said.
Graeme Troy, compliance team leader at the Western Bay District Council, said if Mr Koole did not dock or launch his boat on the Western Bay side of the river he would not need to get a licence to run his business from the council.
Mr Koole may have needed to get a resource consent, similar to a mobile trader's licence, but there was no docking facility or launching ramp in the area, he said.
Mr Koole said he and the boat were licensed to operate on any sheltered waterway in the country.
"It's a business decision, there are more people in Tauranga, there is a better market to market the business too."
Mr Koole said he would now drive the boat up from Tauranga Harbour but would like iwi "blessings" for the venture.