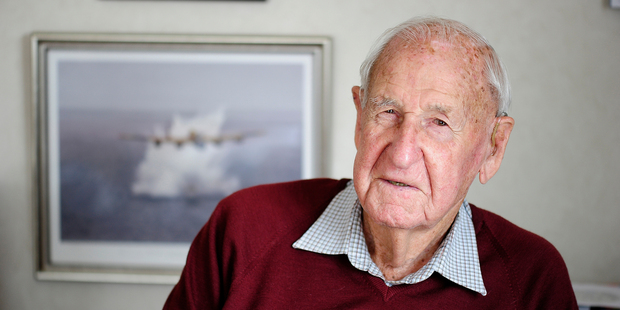 The world's last surviving pilot of the 1943 Dambusters raid has shrugged off a bid to try to win further recognition for the men involved.
Men from the raid were not given a specific medal in recognition of the mission and Britain's last surviving Dambuster, Johnny Johnson, says the veterans deserve a proper medal.
However, Tauranga's Les Munro, who was twice decorated by King George VI for his flying exploits during World War II, says he is content with the recognition he has received and believes there is no need for a special medal.
Mr Munro took part in the war's most momentous raid when 617 Squadron launched its bombers against Germany's Ruhr dams, using ingenious bombs that bounced off the water.
The bombs breached two of the three dams.
But despite months of training on special low-level flying techniques, Mr Munro was denied the chance to deliver his aircraft's bomb when the Lancaster's communication system was destroyed by flak along the Dutch coast.
He limped back to base to fight again - and fight he did, including flying ahead of Lancaster formations to act as bombing co-ordinator.
Mr Munro said he did not think a special medal for the Dambuster's mission was necessary.
His war efforts had been recognised with a number of medals and no missions stood above others, he said.
"In a way, I suppose it might've been worth recognising. As a single operation it achieved a great deal.
"I guess you could challenge that some men received medals and some others in a similar capacity as crewmen didn't," he said.
"I didn't receive anything. I had no problem with that. If I had reached the target and bombed it would've been a different matter."
He did receive the Distinguished Flying Cross and the Distinguished Service Order, among other medals, and said he was comfortable with those achievements as missions he undertook were "highly technical and required very precise flying".
Mr Munro will be among fellow war veterans at this morning's Anzac Day service at Memorial Park and said it would be a day to consciously pay his respects to the thousands who lost their lives.
He said Anzac Day had been an emotional day in the past.
"When you say emotional, it fades with time."
The Dambuster raid
*19 Lancaster aircraft left carrying 133 men.
*11 aircraft made attacks.
*Eight aircraft were lost and two aborted mission.
*53 aircrew were killed and three taken as prisoners.
*Targets were Mohne, Eder and Sorpe dams, Germany.
*Mission known for use of circular "bouncing bombs''.
*Carried out by No 617 Squadron.
*Motto: "Apres moi, le deluge'' meaning "After me, the flood''.
- Royal Air Force