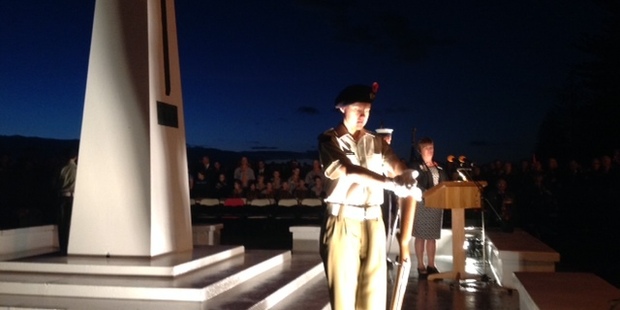 Pride and sorrow were the two conflicting emotions felt at the Mount Maunganui dawn parade.
Pride in watching veterans, current serving personnel, emergency services, cadets, scouts and brownie groups marching clockwise around the monument to the sharp commands of Staff Sergeant Mike Halliday.
Sorrow for those who lost their lives 99 years ago fighting at Gallipoli.
Thousands of people lined the beach front in every direction around the cenotaph opposite Mount Drury as Mount RSA president Carol Cook led the service.
"This year is an important year for New Zealand as we begin commemorating 100 years since the start of the First World War in August 1914, the start of the so called war to end all wars. Some feel it changed New Zealand forever," Mrs Cook said.
Prayers were led by RSA Reverend Marie Gilpin.
As the parade was leaving the cenotaph, the booming sound of two vintage trainer planes flown by Derek Williams and Ian Chapman approaching the beach could be heard before flying over the assembled crowd.
People of all ages crowded the memorial after the service taking photos with their cellphones of family and friends leaving their poppies at the foot of the cenotaph as the sun rose.