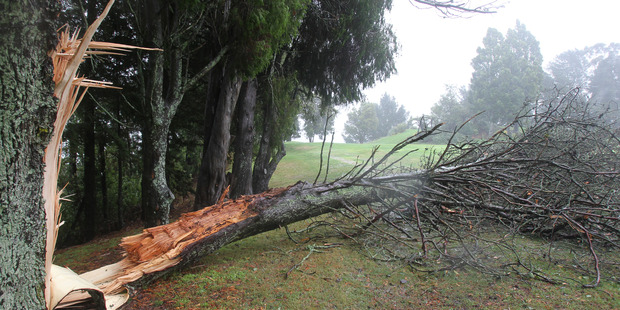 High winds and falling trees resulted in 6700 Western Bay of Plenty Powerco customers losing power today.
Power outages were reported throughout the Bay, including Papamoa, Te Puke, Katikati, Welcome Bay, Greerton, Hairni and Oropi.
Te Puke, Matakana Island, Aongatete, Pongakawa and Pukehina are still reported to be without power, which Powerco states should be restored by 5.30pm.
The local power outages contributed to powercuts to 24,920 households throughout the North Island.
Locally, trees fell in several areas including next to a ute at the intersection of 15th Ave and Fraser St, and across the main road at Pukehina Beach resulting in closure of Pukehina Parade.
Powerco acting electricity operations manager Phil Marsh blamed people not trimming trees.
"There are currently around 25,000 customers on Powerco's networks across the North Island without supply and more than half of these power cuts could have been avoided if tree owners had trimmed or felled trees growing near power lines which is frustrating."
Mr Marsh said Powerco was mindful the school holidays begin tomorrow and there were lines down across the country.
"Powerco's message to parents is keep your children indoors and if you discover downed power lines treat them as live at all times, stay well clear and call 111 or Powerco's emergency number 0800 272727."
Mr Marsh said Powerco was aware of more than 350 sites with lines down across its networks but the Company was well prepared with more than 240 staff working on the repair effort.