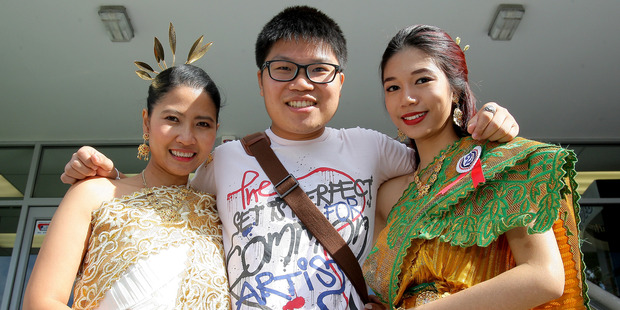 The smell of Pad Thai and the sounds of classical Thai music permeated the Queen Elizabeth Youth Centre yesterday.
About 500 people visited the centre to get a taste of the southeast-Asian country.
The Songkran Water Festival, which is celebrated each year by millions of Thai people worldwide, is celebrated in Thailand as the traditional New Year's Day from April 13 to 15.
Event organiser Chintana Chareornsittichai said the celebration was a way for Thai families from across the North Island to come together and celebrate the Thai New Year together.
Families from Taupo and Whakatane made the journey.
It was also a way for Kiwis to learn about Thai culture by seeing fruit and vegetable carvings, spraying water on Buddha and monks and trying different Thai foods, she said.
Mrs Chareornsittichai said the highlight of the festival was the Thai classical dancing and singing put on by members of the public. Miss Songkran Beauty Contest contestant Phanphanat Minglewan said she entered the contest as a way to celebrate the festivities back home.
She had been living in New Zealand for the past six months to improve her English and would return to her town, Ubon Ratchatanee, next week, she said.
"I studied English in Thailand but we only spoke English in class. New Zealand has been a good place for education and making new friends."
Ms Minglewan said she had been learning English at the Mount Maunganui Language Centre and was hoping to one day be a flight attendant.
Proceeds raised would go to the two Buddhist monks living in the Buddhist temple in Welcome Bay.