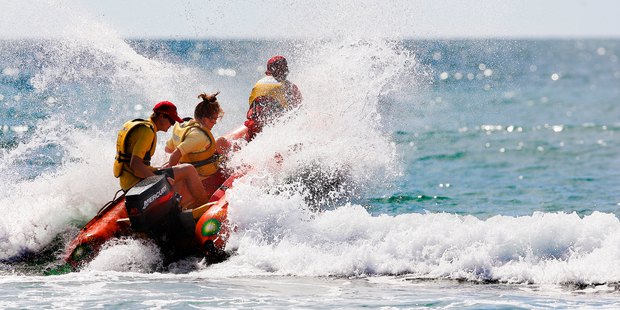 Bay of Plenty Times journalists are providing up to a day's labour to local charities and then writing stories about their experience as part of a weekly series titled, The Bay of Plenty Times Gives Back.
It's one of the Bay's finest days at Mount Maunganui beach, with clear blue skies, small rolling waves and not a breath of wind, as a cheery Greg Rieger welcomes me.
Rieger, a bubbly 51-year-old, has a faded uniform and a smile that dominates his face. He wanders around the club casually like it's his second home, and after nearly four decades in the lifeguard service, it must be.
While introducing me to the patrol, he jokes that my initiation for the day is to jump off the highest rock at the end of Leisure Island.
I'm not sure whether to take him seriously and nervous laughter is shared.
His son Hamish, 15, is also on patrol today, one of his four children who are trained lifeguards.
Along with these two, chairman Paul Treanor is present with his son Hamish, 18, and daughter Hannah, 15, so it is a real family affair on patrol.
However, it is hard to tell who is related to whom with them all treating each other like siblings anyway, constantly joking with each other and no shortage of laughter.
It is a comfortable environment but I am nervous. I'm not a beach person. My swimming is enough to look after myself only and I'm scared of waves - not great prerequisites for a surf lifesaver.
But these lifeguards couldn't have been more reassuring. They are excited and want to show me everything. They lend me a red and yellow shirt and shorts and I immediately feel one of the team. We then take our first roam down the beach.
The day is action packed from beach roams, to IRB runs around Rabbit Island, to a group of us taking a leap off the end of Leisure Island.
My muscles are straining and I am sure my face is pulled into an unflattering expression as I grip the ropes on the IRB for dear life as we crash over the half-foot waves. I can't begin to imagine how they manage to hold on when there is serious surf and a life-threatening situation.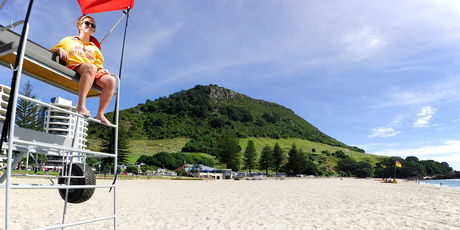 The positivity, humour and sense of fun among the lifeguard volunteers is contagious and it is easy on a nice, calm day to see how what they do is so appealing.
But behind the fun there is serious side to their work. Their responsibility is huge and the IRBs aren't there for an adrenalin rush.
To be a volunteer lifeguard, people have to be at least 14 and pass annual testing. Most of the patrol on this Sunday are teenager.
Giving back to the community, for them, is a privilege and not a burden.
I sit down with Rieger in the afternoon during our first response rotation and he tells me about his 38 years in the service. I ask him if he remembers his first rescue, and the light-hearted chat stops.
"Yeah," he said, "she didn't make it."
He turns and looks to the sea, his expression serious and distant. It really hits home to me the seriousness of what these guards do. These lifeguards care for the Mount walking track, people in the water, people on the beach and any emergencies in Pilot Bay.
They deal with drownings, sun stroke, heart attacks, falls, surf injuries and everything in between.
One volunteer is 17-year-old Felix Cook, who lives in Rotorua and drives the hour nearly every weekend to volunteer his time.
He got hooked through a teacher at his school who helped him train to pass his initial test. This involves a first-aid course, swimming 400m in a pool and basic training using buoyancy aids and other rescue techniques.
Felix doesn't compete in surf lifesaving so is not there to complete his hours required, he just loves the people, helping people and the experience.
An average patrol is made up of 15 people who work in a rotation through the four different duties: manning the flags, watching from the tower, roaming the 4km stretch of beach to Omanu and waiting on the deck as first response.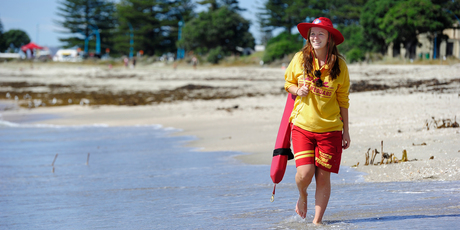 Their day begins by opening the club, setting up the flags, and planning the day ready for a 10am start. They rotate in groups between each duty until 4pm, or even later in peak summer.
"We don't go home until everyone on the beach has gone home," says Rieger.
It is a common misconception that the people who give up their summer weekends to protect the rest of us are paid.
Mount Maunganui Lifeguard Service has no paid lifeguards and uses eight paid guards to help over the three busiest weeks over Christmas and New Year, provided by Surf Lifesaving New Zealand and subsidised by Tauranga City Council.
For a service that requires guards to patrol every weekend from Labour Day in late October until as late as Easter in a good season, hundreds of volunteers are required.
Mount Maunganui alone has about 550 members.
Funding is always tight and volunteers fund all their own uniforms, as well as some of their competitive sports equipment.
With constant coverage needed for a huge area that will cater to thousands of people daily, the expenses are huge.
First-aid kits need constant updating, stretchers are needed, so are defibrillators, bikes, fuel, rescue gear, IRBs and then there's the running costs. The list goes on.
They are expected to have all the best rescue gear to keep us safe yet constantly struggle to make ends meet because funding is so tight. It's a harsh reality that we receive their service free.
MY day has come to an end and I am humbled.
It has been a privilege to spend the day with the Mount lifeguards and I come away with a new appreciation for what they do.
It's important, in my view, that we remind ourselves that we need to take responsibility for ourselves at the beach. As 15-year-old Hamish Rieger says, "People do some stupid things".
My day with the Mount lifeguards has been special. I arrive home to tell my shocked family I now want to be a lifeguard.