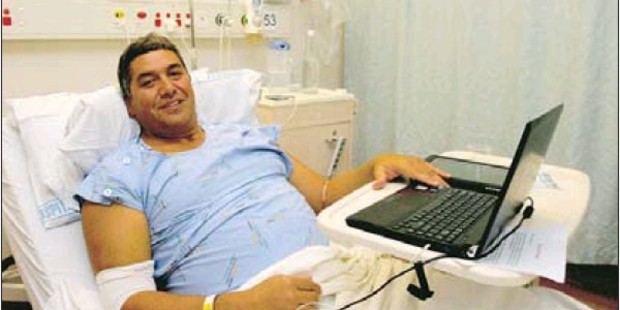 Independent MP Brendan Horan did not let blood poisoning stop him from meeting glamour royal couple, the Duke and Duchess of Cambridge.
Mr Horan was admitted to hospital on Tuesday night but was able to fly to Wellington on Thursday to meet Catherine and Prince William.
Mr Horan said he was able to fly to Wellington after he was given a "large dose" of antibiotics.
"I did get to speak to the Duke of Cambridge and we were able to talk about water polo.
"He was telling me how passionate the Welsh are about water polo."
Mr Horan said Prince William was affable, personable and genuine.
The MP said he was unable to speak to Kate as she greeted guests down the opposite side of the room.
Mr Horan was admitted back to hospital yesterday morning to undergo minor surgery, he said.
He said he hit his leg three months ago and thought it was fine but after travelling to Wellington on Tuesday he knew something was wrong.
"I noticed the swelling in my groin and my leg started to get very painful with a band around my lower leg.
"I started shivering on the way home. I couldn't get warm, so I tried to warm myself up.
"My normal resting pulse is 50 and mine was off the scale.
"I couldn't even get out of the bath and had been having difficulty breathing."
He had been visiting polluted rivers throughout the Bay of Plenty over the past six months, visiting the last river about two weeks ago thinking the blood poisoning could have been from this, he said.
"It's possible that in the damaged tissue some bad bacteria got in it at some stage through the many polluted rivers I have been in and that's the result.
"I never thought blood poisoning because it wasn't an open wound."
He would spend the weekend in hospital on a course of antibiotics and would be discharged early next week, he said.
Meanwhile, Aucklanders turned out in their thousands yesterday to catch a glimpse of the Duke and Duchess.
And it was Catherine who could claim bragging rights over her husband Prince William, as she left him in her wake during a spectacle race around Waitemata Harbour aboard two Team New Zealand boats.
As the royal couple arrived at the Viaduct Basin, a few heavy showers of rain poured down on the thousands of people lining the dockside.
Some were resplendent in Union Jack-coloured clothing and others wore William and Catherine face masks.
Bay of Plenty residents have their chance to meet the Duke and Duchess of Cambridge when they visit Waikato today.
The royal couple will visit Hamilton and Cambridge, taking in Pacific Aerospace, as well as opening the Avantidome.
The best spot will be during their public walk and drive in Cambridge.