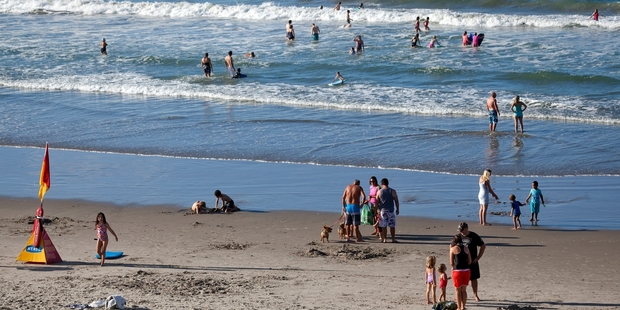 Omanu volunteer surf lifesavers were yesterday clapped and cheered by beachgoers as they packed away the red and yellow flags for the last time this season.
The season officially came to an end at 4pm, with no drownings on the patrolled stretch of beach from Mount Maunganui to Papamoa, thanks to the hundreds of local surf lifesavers who watched over the water this summer.
It's a great feeling for surf lifesavers, according to Omanu lifeguard Allan Mundy, who said the public was listening to the safety messages.
"Some people may think the rescues are what we are all about, all that adrenalin, but the best feeling is going home at the end of the day knowing that everyone at the beach had a good time," he said.
"There have been a few close calls and a couple of days were really busy - big swells, big conditions and big crowds, the magic mix - but thankfully we have managed to get to people before they really get into trouble.
"That preventive work our members do is really making a difference and people are listening to the safety messages and staying safe."
Papamoa patrol captain Jackson Edwards, who worked as a paid guard at Mount Maunganui for eight weeks during the height of summer, said the season had been "one of the best" he could remember.
"Apart from the last few weeks we have had pretty good conditions," he said. "We haven't had the surf seen in other years so people can swim without too much trouble"
But Mr Jackson said surf lifesavers had been kept busy with "prevention work" and first aid.
"We have been really focused on keeping people safe and with things like cuts, grazes, sprains and broken bones."
Mount surf lifesavers were also kept busy working with St John staff to get injured people down off Mauao.
Mount Maunganui Lifeguard Service general manager Glenn Bradley said wet weather and settled sea conditions had meant a quieter start to the season than normal.
"We have been busier the last couple of months when we got some really good swells," he said.
"The IRB has been out a number of times recently and we have had some close calls, but overall people are really getting the message to swim between the flags and come and seek advice regarding beach conditions."
Mr Bradley said it was hard to believe the season was wrapping up after the weekend, when temperatures rose to 27.9C.
"But it is, and now it is time for us to reflect on a season well done," he said.
Mr Mundy said surf lifesavers were now looking forward to spending time at the beach with their own families.
"Your wife and kids can be at the beach visiting you but during the season you are really on, really focused," he said.
"It will be nice for everyone to get down here and just relax themselves, especially as it looks like we have a few really good weeks left this summer."
Surf Lifesaving New Zealand is expected to release final figures from the season this week, including how many rescues lifeguards were involved in.