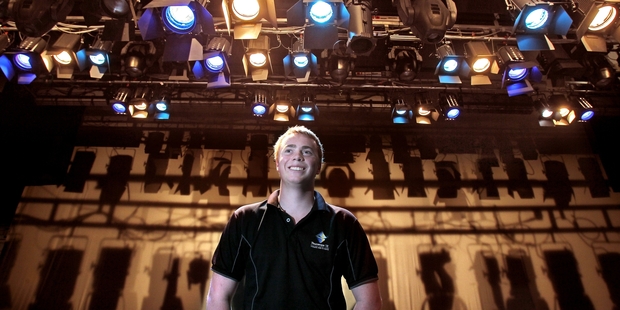 Work experience has landed Bryce Holmes a job doing what he loves.
The 18-year-old former Tauranga Boys' College student spent time at Baycourt Theatre doing work experience as a technician through the government-funded Gateway programme in 2012.
His passion for the job shone, and at the end of his work experience Bryce was employed as a casual worker.
Almost two years later, the experience Bryce gained on the job put him ahead of potentially more qualified applicants when Baycourt advertised for a full-time technician.
Manager Pip Loader said the permanent technicians had identified Bryce as someone the theatre should hold on to.
"When this position came up about a month ago, Bryce applied and here we are.
"We had quite a good response with applications for that position, Bryce was up against people who had potentially been in the industry for a while but since he knows our systems that gave him a head start."
In his time at the theatre, Bryce helped with a number of big shows and had also been involved in its day-to-day maintenance.
As a full-time employee, his hours will be varied, sometimes working from 9am to 5pm, other days not finishing until well after midnight.
Bryce said becoming a technician had first appealed to him when he had helped with a show his sister was acting in about three years ago.
"They needed a bit of help so I did that. The technical director of that show worked at Baycourt and said to me I should do the Gateway programme and work here.
"I thought that sounded like great fun and that's how I ended up here."
Bryce worked for Baycourt for a full week, then would come in once or twice a week after that through Gateway. The production manager approached him and offered casual work, which he had to juggle while sitting his year 13 NCEA exams.
Bryce has been working for the theatre on a casual basis ever since and happy to be offered a full-time position.
"It's a great feeling. It's a great opportunity and it will give me a chance to move out of home and give me a bit of financial stability.
"I would like to stay here and see where this takes me, until I feel I've contributed everything I can to the theatre.
"I absolutely love doing this. In the future, I would like to design for someone famous."