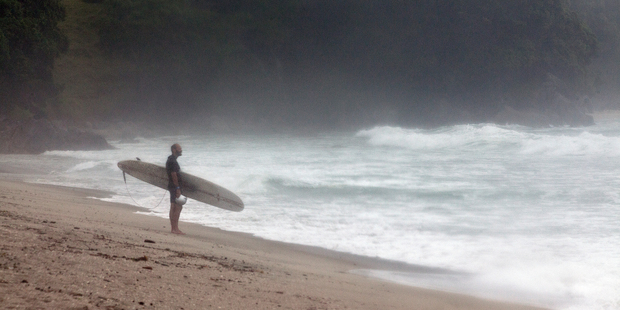 Two Mount surfers' quick actions saved a 29-year-old tourist that got into trouble in the water at Mount Maunganui beach this afternoon.
The UK man was swimming about 3.45pm when he got caught in the strong rip that was running and pulled out away from shore.
A Local surfer was quick to respond and assisted the man to shore whilst an onlooker, also a regular local surfer, telephoned for help and was put in touch with the Mount Maunganui Lifeguard Service.
Mount Maunganui Lifeguard Service general manager Glenn Bradley said the swimmer was fatigued and shaken up by the time they made it to shore.
"Luckily the surfer had got to his assistance early enough and the swimmer was stable and calm and able to leave the beach after being assessed by the offduty lifeguards and we had a good chat about the nature and mechanisms of rips in strong surf.
"As is often the case in these situations we were able to offer a quick thanks to the boardriders who assisted and then they were off for some more waves.
"We are really lucky to have a strong and aware group of surfers around the area who much more often than many people would realise respond to these types of incidents many times they go unreported or unnoticed, so we want to make sure we acknowledge the help and assistance that the surf community provide to beach goers which complement what the volunteer lifeguards provide when they are on duty.
"A strong swell is running currently and is forecast to continue through the weekend, we would encourage people to enjoy the benefits of the great weather but be extremely cautious around the surf beaches this weekend. There is a lot of water moving around and with high tides in the middle of the day expect surges of waves up around the top of the beaches. Volunteer lifeguards will be on patrol at Mount Maunganui beach this weekend which is the last scheduled patrolling weekend of the season.
"We had a similar weather and surf pattern a couple of weekends ago and were very busy with rescues, our goal is to always prevent situations form happening so we are certainly keen to advise beach goers to exercise real caution this weekend."