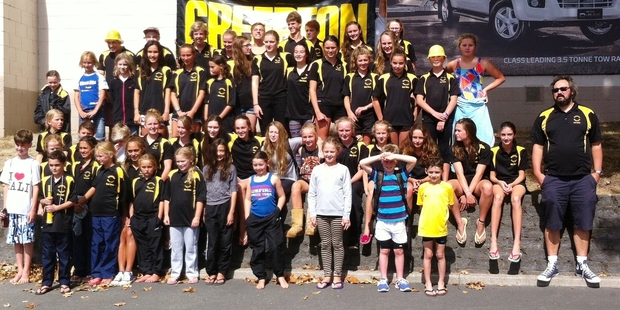 Sixty Greerton swimmers descended on Taupo on Sunday for the Swim BOP relay championships determined to emulate their record 2013 haul of nine trophies. This goal was almost achieved despite missing star swimmer Nathan Capp due to Commonwealth Games trial preparations.
The club was especially pleased to retain the the Jim Gardner Trophy where one male, and one female per age group - 9/U, 10/11, 12/13, 14/15, and 16/0 completes 10X25m freestyle.
The rules allow clubs to choose the starting order and Greerton coach Tai Daniela opted to lead off with younger swimmers and finish with the older, faster swimmers. At one stage it looked like the tactics had misfired with the team giving away one 25m pool length halfway through the race. However as the team accelerated it became apparent with three laps to go a win was on cards but a strong showing from the Rotorua swim club kept spectators on tenterhooks until the final touch.
Another prized trophy, the ornately carved Mikaere Shield, remains in the cabinet at the Greerton pools.
In this event one male and one female per age group - 13/U, 14/15, 16/O - races over 6X25m freestyle. The anchor leg swum by Claudia Capp was built on a perfect changeover and she came through for a narrow victory.
The most successful team was the 10 and 11-year-old boys who won both their events. Due to a late withdrawal, 9-year- old Charlie Paterson was asked to step up a division and did so with a steely determination that allowed him to bring home the team in the medley relay after a strong start from Jacob Browne, Jed Jager, and Connor Farrell. This added to their freestyle victory earlier in the day.
Despite losing Charlie to the older team, the 9 and under team of Ian Pugh, Daniel Harrington, Mia Gardiner and Sarah Cummings also managed to win their first event, the freestyle relay and only just got pipped for the win in the medley relay.
Another trophy the club wanted was the Greerton Shield Open Female freestyle which was duly won by Danielle Waiari, Emma Harding, Claudia Capp and Stacey Muir.
Danielle and Claudia combined with Calum Gilmour and Blake Horne to win the 4x100m Whakatane open relay trophy.
The next event on the club calendar is Friday night's club championship.