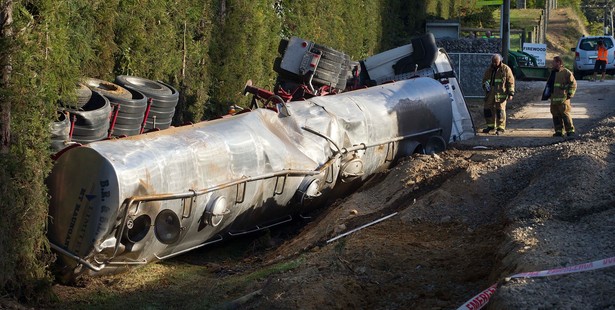 The driver of a truck and tanker that rolled in the Kaimai Ranges has just been freed from the vehicle.
The truck rolled near the Poripori Rd intersection with State Highway 29 about 4.30pm.
A reporter at the scene said the tanker filled with Fonterra by-products travelling to Hamilton had rolled down a bank on the left hand side.
The driver of the truck appeared unharmed but was trapped for some time with firefighters working to get him out. Three fire trucks are at the scene, with one of the teams trying to stop the byproducts from flowing into the drain.
UPDATE 4.56pm: Part of State Highway 29 is partially blocked as emergency services work to free the driver of a truck that rolled in the Kaimai Ranges this afternoon.
Police northern communications spokesman said: "At this stage there's no indication the driver is injured but is obviously trapped."
Traffic diversions are being put in place. Delays are expected.
EARLIER: A person is believed to be trapped in a truck after a crash in the Kaimai Ranges.
Emergency services are responding to the crash, where initial reports are a truck has rolled at the intersection of Poripori Rd and State Highway 29.
More soon.