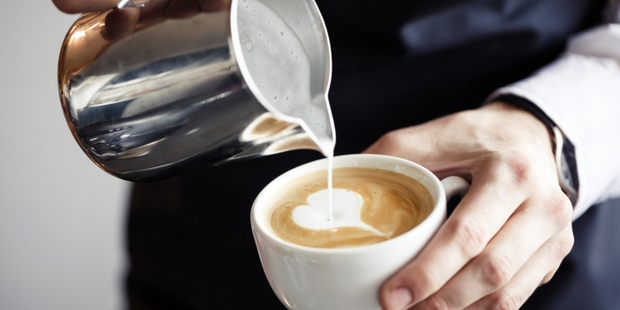 The humble flat white is the most popular coffee in the Bay, a study has found.
The study, released by Muffin Break, said 29 per cent of Bay residents preferred the caffeine pumped beverage over any other coffee style.
The survey is believed to be the largest of its type and sought the opinions of more than 22,000 Australasian coffee drinkers.
The flat white was followed by the latte (23 per cent), cappuccino (21 per cent), mocha (21 per cent) and tea (2 per cent) for most popular hot beverage.
Flat whites were not only favoured in the Bay but also in Auckland (31 per cent) and Otago (31 per cent).
Tauranga barista, and Huhtamaki NZ Cup Tasters Champion, Charlie Self, said the flat white was accessible and the most well known in New Zealand.
Mr Self said the French made the Italian espresso their own by adding milk to make it a latte.
"However, when you fast forward 80 years, New Zealanders found lattes too milky and the industry came up with the flat white."
Mr Self said the flat white was "grunty".
Love Rosie's barista Kalee Haakma said 70 per cent of her clients favoured the flat white.
"Whether it's large or small, it's always a flat white.
"It's easy and simple. It's coffee and milk, you can't go wrong with it."
Ms Haakma, who has been a barista for eight years, said coffee drinkers would stick with flat whites as it was the go-to drink.
"It's safe for drinkers and then they just get used to ordering a flat white.
"If people come in and they say they don't know what coffee to get because they don't normally drink espresso, you generally ask them if they drink milk and if they do, offer them to try a flat white."
The most quirky coffee Ms Haakma has come across in her line of work was a large decaf half strength soy cappuccino with cinnamon on top.
On average, she makes about 10 decaf coffees a day.
The Muffin Break survey also said Bay of Plenty residents preferred large-sized coffees (47 per cent) over extra large (28 per cent) and regular (24 per cent).
Most Bay coffee drinkers also preferred trim milk (51 per cent) to full cream milk (41 per cent) with 6 per cent drinking soy milk and 3 per cent no milk at all.