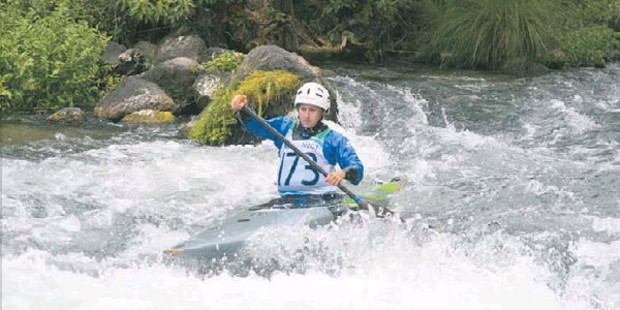 Tauranga Boys' College have retained the top school trophy at the NZ Secondary Schools White Water Kayaking Championships for the 15th time in 18 years.
The event including canoe slalom and down river racing was held at Monowai in remote Fiordland, where deer wandered across the road from the bush and contact to the outside world was limited.
Winning it again was not easy as their main competition, Dunstan High School in Alexandra, had the bonus of being co-ed, therefore had many more chances to earn points.
Tauranga Boys' teacher Rob Sperling says they went into the final day of the down river racing only 2 points ahead, a lead they just held on to to take the top honours.
Team captain Alex Hawthorne won the senior K1 just ahead of schoolmates Theo Pepper (second) and Patrick Washer (third). Washer dominated the C1 (canoe) senior event with Tauranga's James Thwaite (second).
Washer and Hawthorne were split by one point on the overall top paddler trophy which Hawthorne won due to a second place in the down river sprints on the final day.
The C2 event was again dominated by Tauranga Boys' College with NZ reps Luke Robinson and Dan Munro cleaning up the field by more than 10 seconds. Washer, Thwaite and Munro won the senior C1 teams, with Hawthorne, Pepper and Reyland having to settle for second in the K1 teams.
Jack Dangen, 15, cemented his place as a future star, with firsts in K1 and down river and second in C1, to be awarded the overall top paddler in the intermediate age group. Another schoolmate Daniel Tuiraviravi was the next best in this age group and the pair combined to win the Intermediate C2 (double canoe) and K1 teams with Callum Aitken who also took silver in U16 down river. TBC's Damian Torwick won the U14 down river.
Local girls shone in their events with Mount College deputy head girl Kaydi O'Connor-Stratton winning K1, C1 and second in down river to win the Heather Jull Trophy for overall best female paddler.
Tauranga Girls' College sisters Chelsi and Courtney Williams, who are also in the NZ U19 rafting team, were second and third in both K1 & C1. Rafting teammate Suzy Cumming took out the senior girls down river.
Tauranga Girls' won best girls' kayaking school with Maddie Wilson starring in the U14 age group, winning K1 and C1.
Claudia Paterson from Bethlehem College was runner-up in K1 & C1 in U16 girls.