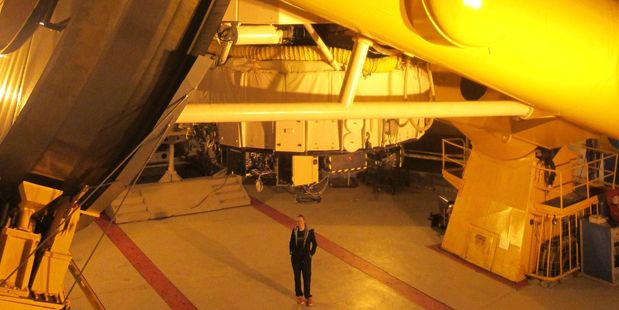 A six-week trip to the US on an Aurora Astronomy Scholarship will likely lead to new horizons for former Katikati College student, Toby Hendy.
After her university exams last November Toby headed overseas to take up the scholarship administered by the University of Canterbury. The purpose of the scholarship was to get research experience at various scientific institutes.
Los Angeles was her first stop spending the first few days at the Carnegie Observatory, a world-class astronomy research institute investigating the early universe, galaxy formation, and other phenomena such as gamma-ray bursts and black holes.
"Here I met astronomers and learnt about their work and also of their personal stories in pursuing a life in astronomy," Toby says.
"I visited Caltech, UCLA, the Griffith Observatory, Mount Wilson and SpaceX, which was a particular highlight."
SpaceX is a private space flight company established by Elon Musk, the founder of PayPal, and is replacing the retired NASA shuttles in servicing the International Space Station.
"SpaceX is one of the brightest hopes for getting humans to Mars in the coming decades and I was able to see inside their production workshop and meet scientists working with these inspirational goals."
In her spare time Toby did some essential Lose Angeles sight-seeing such as Hollywood and Santa Monica.
"I also made it to downtown LA where the retired space shuttle Endeavour was on display. This was a unique opportunity to get a close look at something that had been a huge part of human space exploration, with only four shuttles on display across America."
The last portion of her time in the City of Angels was spent at JPL (Nasa's jet propulsion laboratory).
JPL is home to mostly engineers and some scientists who have worked on more than 100 of the most important spacecraft missions to leave Earth. These include the Mars Exploration Rovers and Cassini, an unmanned spacecraft that has been orbiting and studying Saturn since 2004.
"At JPL I spoke to many intelligent people who were responsible for planning, overseeing and operating spacecraft scattered all throughout our solar system," Toby says.
The Macdonald Observatory near Austin, Texas, and home to six large ground-based telescopes, was Toby's next destination. She spent a week with a PhD student who was using a telescope with a primary mirror diameter of 2.7m to look for exoplanets - planets that orbit around stars other than our Sun.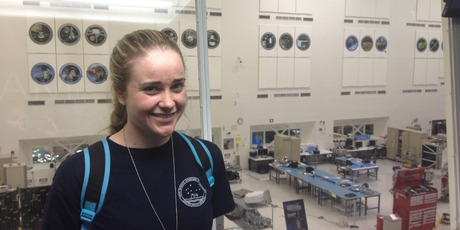 Exoplanets can be examined to see how similar they may be to Earth, Toby said.
"The telescope being used was peculiar because of a series of bullet holes left in the primary mirror after an incident in 1970, when an astronomer suffered a mental breakdown and carried a gun into the dome. The damage actually had very little effect on the resolution of the telescope, which is still fully operational."
Toby then flew to Canada sepnding time at both the University of British Columbia in Vancouver and on Victoria Island and working with a group of astronomers on a collaboration called the Outer Solar System Origins Survey.
Toby helped them to reduce data collected from a telescope in Hawaii to track asteroids in the solar system.
"Determining the position of objects beyond Neptune aids the group in forming an accurate model for how the planets ended up in their current locations and to understand how the solar system formed," Toby said.
Her final visit was to the Hawaiian telescope used by the Canadian observers.
This telescope is called CFHT and is a collaboration between Canada, France and Hawaii. Toby was taken to the summit of Mauna Kea, a dormant volcano that accommodates some of the largest telescopes in the world.
"Here I could see the process of astronomical research from the observer's point of view, already having understood how scientists working in other countries will use the collected data."
With some spare time in Hawaii Toby drove around Big Island, visiting Volcano Park, Kona Beach and Kealakekua Bay (where Captain Cook died). She snorkelled at night with manta rays that came to feast on plankton attracted by lights held under the water and during the day saw plenty of exotic fish and dolphins.
"During my trip I was surrounded by many interesting people working in science. I was shown numerous future job opportunities and areas of specialty that I hadn't known about before."
This year Toby continues study for her Bachelor of Science in Physics. After graduation she would love to join some of the work that she experienced this summer.