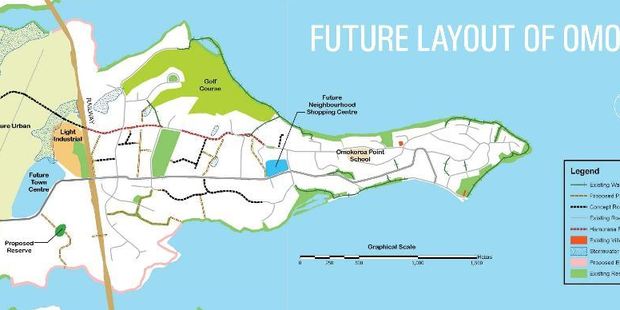 A supermarket could be built beside SH2 at Omokoroa up to 10 years earlier than planned if the Western Bay District Council agrees to change a key element of the peninsula's master plan.
Developers and retail representatives have urged the council to shift the location of a planned town centre from land near the railway line to a site close to the highway.
It is all about preparing for the day in about 10 years when Omokoroa's population would have doubled to about 5500 people and the town was ready to leap the railway and begin filling up farmland out to the highway.
The new town centre comprising a supermarket, shops and maybe some community facilities was part of this future development, but its location on gullied land near the railway had drawn criticism.
Commercial sector representatives have persuaded the council to review the location, asking that it be put on more commercially viable flat land near SH2.
They argued that the town centre could then be developed years earlier because it would attract passing traffic and residents from the surrounding hinterland including Pahoia and Whakamarama.
A report written by council policy analyst Andries Cloete said commercial feedback was that the population of Omokoroa was too small to sustain a development of this size.
They said it was a chicken-and-egg situation. "How do you get more people to reside in a town with limited retail facilities, employment opportunities and social infrastructure."
The town centre review was due to be reported back to the council in May. In the meantime, there was widespread speculation that a supermarket chain had purchased one of the commercial sections for sale inside the existing township, and planned to build a mini market. With the closest supermarkets in Katikati and Bethlehem, it would provide a grocery outlet until Omokoroa was ready to develop across the railway line.
Omokoroa councillor Garry Webber said the message they had received was the proposed site for the town centre was very challenging land to develop.
He said development had swung back and there were only about five sections left to sell on Lynley Park Drive.
Omokoroa Community Board deputy chairman John Palmer understood that one of the suggested sites was on the corner of SH2.
He heard that if the town centre was relocated to the highway, construction could start 10 years earlier because it would attract more business and be commercially viable.
However, even under the relocation scenario, a supermarket might still be 10 years away.