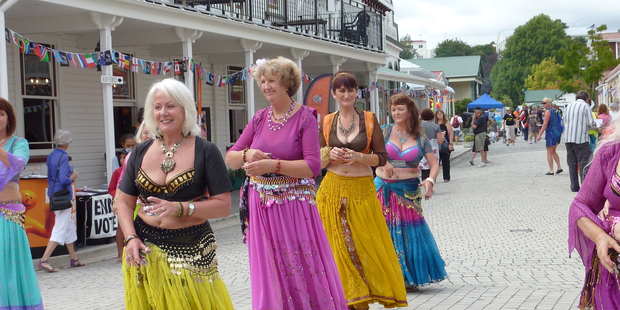 Due to Cyclone Lusi warnings, several events scheduled for the weekend in the Bay of Plenty have been postponed and some cancelled. Below is an updated list of events that have changed.
Friday, March 14
* Season finale of Night Owl Cinema, Pedal Powered cinema will now be held at the Historic Village, Village Hall from 6pm with movies screened at 7:30pm. Food from The Little Big Markets, music and good vibes will still be on offer.
"We won't let a cyclone threat stop our cycle powered cinema!" said organiser Kimberley Cleland.
* The Black Sticks Men's third test against Japan has been brought forward from Saturday to tonight at Tauranga Hockey Centre at Blake Park. Tickets will be available from the gate from 4pm.
Saturday, March 15:
* The 14th Tauranga Multicultural Festival has been postponed until Saturday, April 5. It was planned to be held at the Historic Village at 17th Avenue. Tickets will be $6 for adults, children under 12 year free.
* The Amazing City Race Tauranga has been postponed until next Saturday, March 22. It will start at 9am and prize giving will be held about 10.45am.
* A Have a Go Day for disabled surfers at Omanu Beach has been cancelled. The day, organised by the Disabled Surfers Association, was meant to begin from 8.30am next to the Omanu Beach Surf Lifesaving Club.
* The Baypark speedway event scheduled for Saturday, March 15 has now been postponed to Saturday March 22.
Sunday, March 16:
* The Aotearoa Surf Film Festival free outdoor screening of The Endless Summer at Mount Drury Reserve has been postponed until next Sunday, March 23.
* The Club Championships at Papamoa Surf Life Saving Club have been postponed until Sunday, March 23.
* The Ulysses Motorcycle Club Annual Tauranga Hospital Easter Egg and Toy Run was expected to take place on Sunday March 16, but has now been cancelled.
* The TrustPower TECT rescue helicopter open day has also been cancelled.
* Work to change the layout of Domain and Tara Road intersection scheduled for Sunday is postponed. A new date will be advised when known.
Weekend events which could still be affected:
* Tauranga Airport Manager Ray Dumble said no flights have been cancelled yet. Updates will be posted throughout the weekend.
* A Tauranga gardening SwapFest designed to help green thumbs share seeds, cuttings, excess plants and knowledge is still expected to start from 1pm on Sunday, March 16 at Sydenham Botanic Park on Miller's Rd next to Brookfield School unless there is still heavy rain. A decision is expected to be made at 12pm Sunday. For more information phone 577 6676 (evenings) or see http://sydenhampark.wordpress.com.
* The 32nd Evergreen National Women's Softball Tournament is being played Saturday and Sunday at Greerton Marist. Competition games will be replaced with activities inside if rain is too heavy.
* Cricket games across Tauranga, including the final round of the Williams Cup, are still on at this stage however the final decision will be made on Saturday morning by Sport BOP and umpires.
Weekend events that will go ahead:
* The rugby league festival and registration day at Jubilee Park, Te Puke, on Saturday will go ahead rain or shine as it can be held inside the hall. Registrations start at 9am.