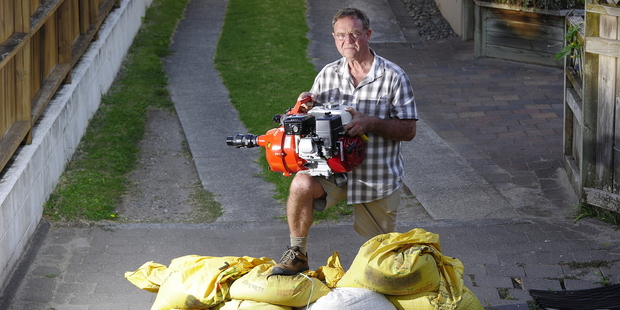 One Bay local is so worried about flooding he has sandbags and water pumps ready to deal with any potential deluge as Tropical Cyclone Lusi is expected to bear down on Tauranga.
Cyclone Lusi, which has intensified to a category 3 cyclone, is expected to track west of the North Island tomorrow, before crossing the South Island on Sunday. A severe weather watch is in place for Northland, Auckland, Coromandel Peninsula, Bay of Plenty, Waikato, Gisborne, Taumaranui, Taupo and Taihape.
MetService forecaster Rochelle Fleming said it was too early to say whether the cyclone would hit Tauranga and the Western Bay region.
"But we're pretty confident there will be bursts of heavy rain and in some areas there could be more than 100mm within 24 hours, and wind gusts of up to 120 km/h," she said.
Commons Ave residents Lance Hawkins and his wife Elly were among those worst hit by severe flooding in April last year when water poured through the bottom floor of their home.
It resulted in the Hawkins making an almost $14,500 insurance claim.
"I'm really concerned. We've been here for two years and have been flooded only once but we know this street is susceptible to flooding when it rains heavily," Mr Hawkins said.
Since the flooding last year the stormwater drainage had been improved, he said.
"But we don't know how it will stand up to the cyclone and I have got sandbags and two water pumps ready."
Bay of Plenty Civil Defence emergency management group regional manager Clinton Naude said Civil Defence staff were ready to respond.
"People need to keep up to date with official weather warnings and forecasts.
"There could well be flooding, slips, road closures, power failures and phone outages," he said.
Mr Naude urged people to take steps now to prepare, such as checking gutters and drains were cleared, secure items outside such as plastic furniture, rubbish bins, trampolines and if destructive weather hits to remain indoors.
Boat owners were warned to make sure their boats were secured at moorings.
A number of events in Tauranga could be disrupted this weekend, including the Black Sticks Men's third test against Japan, the 15th annual Tauranga Multicultural Festival, and the Spring Car Gold Up at Baypark Speedway, all tomorrow.
Due to severe weather warnings, the TrustPower TECT rescue helicopter open day on Sunday had been cancelled, pilot Liam Brettkelly said.