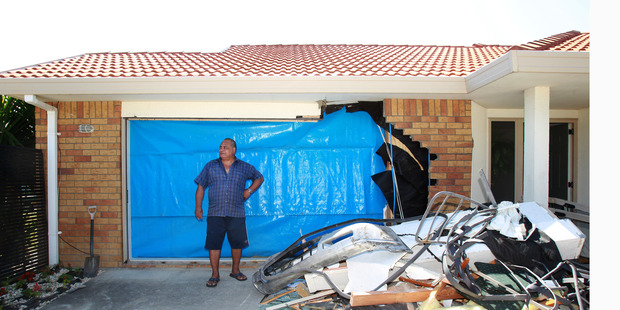 A Whangarei woman who smashed through one side of a house and out the other after her car left the road in the Bay of Plenty could need 100 years to pay off the $52,472 court-ordered reparation for the destruction.
Sarah Koroi, 23, appeared in the Whangarei District Court for sentencing yesterday after earlier pleading guilty to dangerous driving and driving with excess breath alcohol after she struck a car then careened into a house on Gravatt Rd, Papamoa, about 6.45pm on November 21. Koroi's out-of-control car clipped the side of a house before ploughing through the sliding doors of another house and out the other side.
Community magistrate Diane Hale convicted Koroi on both charges and sentenced her to a total of nine months' supervision and nine months disqualification. But Ms Hale did not fine her, saying the reparation she was about to order for Koroi would effectively "be a noose around this girl's neck for a considerable time."
Ms Hale ordered Koroi to pay $47,749 reparation to IAG insurance for the damage to the house and $4,723.30 to AA Insurance for the other car she damaged. The reparation was to be paid at $10 a week at this stage, with that amount to be reviewed once Koroi got further employment. At $10 a week it would take Koroi 100 years to pay off the debt.
Defence lawyer Julie Young said on the day of the crimes Koroi received bad news that a close family member had died and that started the ball rolling.
Ms Young said Koroi had moved back to Whangarei where she had a wide support base, had got part-time employment and was undergoing alcohol counselling.
She said Koroi could afford to pay $10 a week reparation and could increase that amount when she found full time work.
Ms Hale said Koroi had been through a positive restorative justice meeting with the other car driver and the home owner and they both wanted her to get on with her life in a positive manner and were supportive of her.
Ms Hale said Koroi made a silly decision to drive that day and a probation report found she was unlikely to put her self in that position again.
"The main thing is that you get yourself into full employment...and pay this reparation," she told Koroi.