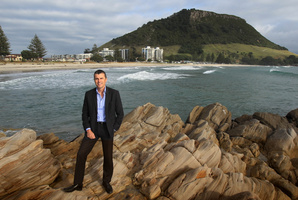 Catching up with family and friends has emerged as the main reason Kiwis are visiting Tauranga, according to surveys of Automobile Association members.
Data obtained from 22,000 people each month has shown that nearly two-thirds of visitor nights were spent in the homes of friends and family.
The survey, carried out by the Fresh Information company, has identified where people were travelling from and where they were staying. It also pinpointed where Bay people were travelling to within New Zealand and how many nights they spent away.
Aucklanders comprised the biggest influx of Kiwi travellers into Tauranga and the rest of the Western Bay.
They made up 40 per cent of the 2.3 million nights notched up by visitors from July 1 to January 31.
The national data collection showed that Waikato visitors were a distant second comprising 19 per cent of nights, while people from elsewhere in the Bay of Plenty and Wellington accounted for another 20 per cent.
Fresh Information managing director Shane Vuletich said the main holiday months of December and January accounted for nearly half of the 2.3 million visitor nights.
The data, scaled up against the country's population, also showed where in New Zealand people from the Bay of Plenty region were travelling.
Auckland was the biggest drawcard, capturing nearly a quarter of the 3.26 million nights spent away from home, followed by Waikato on 9 per cent. Mr Vuletich said 62 per cent of the 2.3 million nights were spent by visitors staying with family and friends. A further 550,000 nights were spent in traditional commercial accommodation and 320,000 nights were in a variety of other accommodation such as free camping grounds, mobile homes or Department of Conservation huts.
Fresh Information Company was reluctant to pin down the dollar value of the visitors. He said most were within a three-hour driving range of Tauranga and they often fuelled up and bought their provisions from their home areas.
"It is difficult to assign spending."
The incoming visitor data tapped into the 1054 people surveyed who had visited the area since July last year, while the travel destinations for Bay people was based on responses from 1730 residents.
Friends, family help Bay weather tourism storm
The huge importance of visiting friends and relatives has helped Tauranga escape the worst ravages of the global downturn in the tourism industry.
Tourism Bay of Plenty general manager Rhys Arrowsmith said that had helped it weather the storm, whereas areas such as Rotorua and Queenstown took bigger hits because of their reliance on international tourists and factors including currency fluctuations.
The tourism promotion agency has spent $200,000 on campaigns pitched at the visiting friends and relatives market, starting with the pre-summer holiday period and now entering the second phase aimed at getaway weekends for Auckland and Waikato residents.
"It is gaining momentum each season ... backyards almost become a marae experience and lounges fill up with mattresses," Mr Arrowsmith said.
And because the people who hosted visitors were the best ambassadors for the Bay's attractions, tourism operators offered heavily discounted "mates' rates" to residents from late November to early December so that they could pass on their experiences: "We are blessed to have such a strong domestic market."
It was the highest-growing region for commercial bed nights, while attendance at attractions had risen 11 per cent in a year.
Where Bay of Plenty people are travelling in New Zealand
*Auckland 24 per cent
*Waikato 9 per cent
*Coastal BOP 8 per cent
*Rotorua 7 per cent
*Taupo 6 per cent
*Wellington 6 per cent
*Hawke's Bay 5 per cent
*Eastland 4 per cent
*Northland 3 per cent
*Christchurch 3 per cent
*Rest of NZ 25 per cent
- percentages of total 3.26 million nights spent away from home