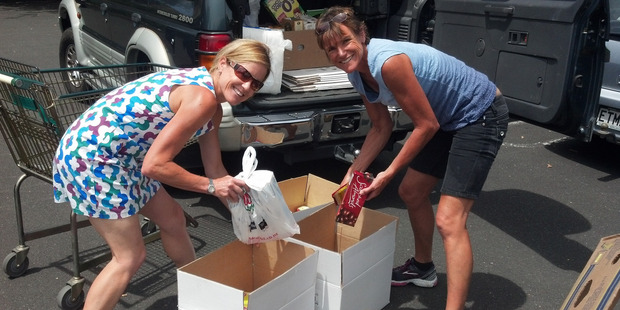 A Tauranga trio hopes to cut down on waste and help those in need by collecting food before it becomes waste and donating it to charities
John and Jackie Paine and Lavina Good have teamed up to launch Good Neighbourhood Food Rescue.
Mr and Mrs Paine were inspired after visiting the Kaibosh Food Rescue Programme in Wellington at the end of last year, the same time Ms Good contacted the organisation.
The group then teamed up to launch a feasibility study into the need for something similar in Tauranga.
Mr Paine said he and his wife had spent time working in developing countries and did not like to see food go to waste.
"It's about tracking down food that is maybe not saleable but still edible and supplying it to charities," he said.
Mrs Good owned Brookfield New World with her husband Brendon and knew how much food went to waste.
"It's such a shame because people in our community are going hungry," she said. "It's never been economically viable for Brendon to drive his leftover food to the Women's Refuge every day but he also doesn't want to throw it away."
Good Neighbourhood Food Rescue volunteers would collect and distribute the leftover food every day, which also helped businesses save on dumping costs, she said.
Tauranga Women's Refuge and Merivale Whanau Aroha Early Childhood Centre were the only two organisations benefiting so far but the group hoped to expand as more food outlets came aboard.
Women's Refuge manager Angela Warren-Clark said the donations were invaluable.
The organisation aimed to help families who were staying in their safe house and donations from Good Neighbourhood Food Rescue had allowed the refuge to supplement what they already had.
"Nobody cares that the packaging is looking a bit damaged," Mrs Warren-Clark said.
"It just means that we can put cleaning detergent into the safe house and they don't have to buy it themselves.
"We can put some treat food in and lunch food for the kids when they are off at school.
"We need these kinds of initiatives to be picked up by the rest of the community."
Mr Paine said the idea was to target sources and fresh food that was not already being collected.
"I see that this could have a significant benefit to the community," he said.
"We're pretty keen to get it established if it proves to be viable.
"I think it's looking encouraging."
Email Mr Paine at gnfoodrescue@gmail.com if you are able to help. Items must not be past their best before date.