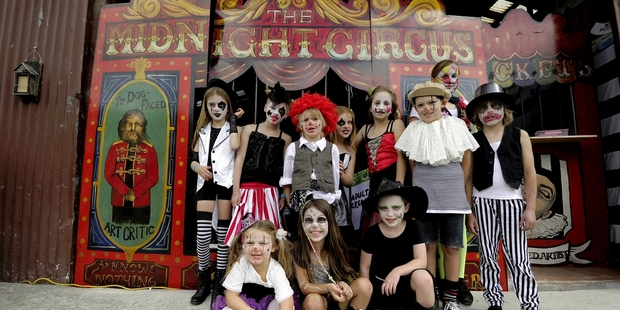 Her feet couldn't touch the stirrups but that didn't stop 2-year-old Lola Raeburn enjoying a pony ride during Children's Day celebrations.
The Papamoa tot and her family were among the 7000-strong crowd who yesterday enjoyed a day of more than 30 free activities at Tauranga's Historic Village as part of the national day.
Families took the opportunity to introduce their children to everything from karate, cheerleading and magic shows to arts and crafts, pony rides and face painting at the Tauranga City Council event, with organisers saying they couldn't believe how big the crowd was.
TCC City Events team leader Penny Mitropoulos said the event normally attracted a crowd of around 5000, but upwards of 7000 showed up yesterday.
"It is full on, very exciting for the children," she said.
"Each year we get more support. We could not do this without the community's help."
It was a day of firsts for many, including 6-year-old Flynn O'Connell who decided he wants to be "a ninja" after trying out karate at one of the stalls.
"A ninja or a soccer player. It depends on what mum says," he told the Bay of Plenty Times.
Papamoa mum Fiona Payne took her four children along for the first time and said it was great to have a day out as a family without worrying about the cost.
"We have just had a ball," she said.
"It's a cheap day out for the whole family and it is super exciting."
Four ponies from Trinity Valley were kept busy all day, with a non-stop queue forming from 11am, according to Trinity Valley's Carla Townsend.
"The first time those little faces see a pony and get to jump on for a ride is just amazing," Mrs Townsend said.
"Last year we had two ponies but this year we doubled it because the crowds just keep getting bigger each year."
A team of volunteers from The Incubator set up a freak show featuring bearded ladies and body parts, which also drew the crowds all day.
The Incubator director Simone Anderson said the team wanted to do something a little bit different to celebrate Children's Day.
"You can't get much different than a good old-fashioned freak show," she said.