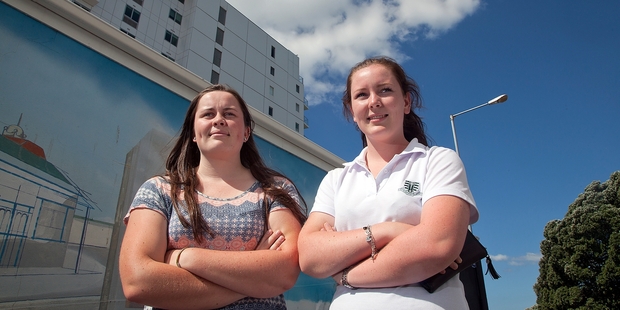 Tauranga high school students considering career opportunities will find staff in hot demand in Tauranga and the Bay.
The sectors offering the most opportunities here include primary industries, information technology, health, construction, business and engineering, says economic development agency Priority One.
The Ministry of Business, Innovation and Employment's annual occupation outlook shows the industries with the lowest job prospects were pilots and air traffic controllers, actors, firefighters and journalists.
Sisters Annie and Caitlin White were confident they would get jobs once they graduated, but both were unsure which field they would end up in.
Caitlin, 16, an Otumoetai College student, said she was taking a gap year once she finished college to work and get her head around her job options.
"A lot of my friends are going into design and some maths and science-type jobs.
I know a few people planning on going into law as well, but more for the lifestyle because it's their parents' lifestyle."
Annie, 18, was studying toward a bachelor of media arts at Wintec, but was still unsure what she would do once she graduated. "If I can't find anything I'll go do another year and do primary school teaching. Teachers are always needed.
" I don't see myself in New Zealand. I'd like to get a job in Canada."
Priority One Instep manager Lyn Parlane said the key for young people looking to enter the job market was to brush up on "transferable skills" such as problem solving, good communication and showing initiative.
Job opportunities in the Bay of Plenty included those in the horticulture and agriculture sectors, she said.
"These jobs aren't just about milking cows and picking kiwifruit. There's lots of jobs in science and also others in research."
Another area of note was the health industry, as more workers would be needed in that sector in future to cater for Tauranga's ageing population, Ms Parlane said.
Jemma McLaughlin of Headway Life Coaching in Te Puna said she was advising people to take a more general route in their study, such as a management or business degree rather than a niche qualification, so the skills were more transferable.
She said tradespeople were securing work quickly, as were those in administration.
Mrs McLaughlin predicted sales and marketing jobs would be booming in coming years as the economy recovered, as well as business analyst positions.
Tauranga Boys' College principal Robert Mangan said this year the school had four year 13 physics classes as engineering was becoming a more popular choice for his students.
He said his students went for a wide spectrum of jobs once they left. "ICT is certainly popular but there is a whole spread really. A number will go into trades and others will decide on tertiary study and university."