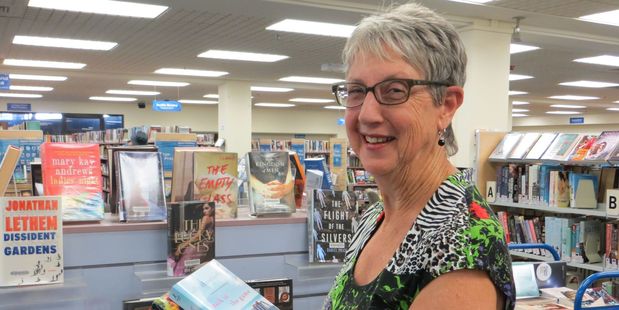 Judy Sail ended a stellar 31-year career at the Tauranga City Library last Friday.
Judy Sail's 31-year career at the Tauranga City Library ended on Friday when she checked out for the last time and retired from her post.
"It's hard to believe where the years have gone," she says.
"But it's been fantastic."
The former nurse and butcher shop worker says a change of vocation more than three decades ago led her into a job she loved.
"I was looking for a change of direction," says the community services team leader.
"I came into the library and the deputy librarian told me there was a job going and I should apply.
"My mother was a passionate reader of books and poetry and she installed a love of books and reading in me.
So I knew I'd like to be around books."
She was hired as a library assistant but quickly climbed up the ladder, embracing training and a variety of roles.
Judy drove the small mobile library and qualified as an intermediate and senior librarian.
She has worked at Greerton Library, as well as all areas of the main library, and says technology has been a major game-changer.
"When I started there was a huge card system and you had to catalogue and file. We had to write up, by hand, all the issues and returns and stamp the books.
"You got used to it, but when computers came in it made a huge difference."
There was an air of excitement when the computers arrived, Judy says.
"You just had to knuckle down and do it. It was a challenge and we just got on and did it, but the technology really helped us and we wouldn't have been able to keep up without it.
"As the libraries grew so did the need for new technology and now we have iPads, Facebook, Twitter and e-books... the changes have been incredible."
Being involved with the establishment of the Papamoa Library and the refurbishment of the Mount Maunganui and Tauranga libraries have been highlights, but Judy says it's the people she'll miss the most.
Judy plans to spend her retirement enjoying the great outdoors, travelling and spending more time with her grandchildren.
Tauranga Library manager Jill Best says the library tends to retain loyal staff members and Judy was invaluable.
"Her passion is for people and she went out of her way to make sure staff and customers were happy. We pride ourselves on service and we do a survey every three years and the public always tells us that the staff are really important to help them get what they need to get and do."