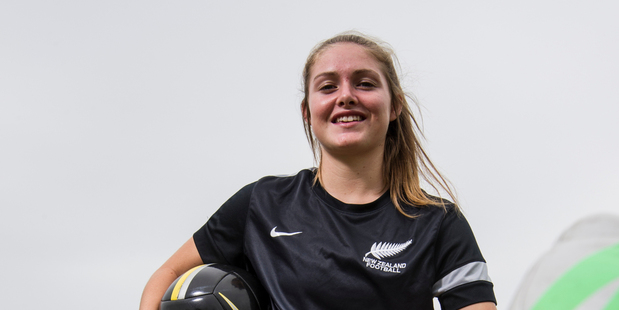 Fancy footwork and a competitive nature have propelled Sophie Stewart-Hobbs into the New Zealand Under 17 Football Ferns destined for the World Cup in Costa Rica.
The 15-year-old is training with the premier squad in Auckland and will fly out to Central America on March 10. She has been in the wider squad for two years and says it felt amazing to make the top team.
"It's really exciting and a dream come true. I can't believe it."
The Tauranga teenager started playing soccer as four-year-old and quickly climbed through the ranks. She has represented the Western Bay of Plenty and Waikato/Bay of Plenty in all age groups and sacrificed other sports to concentrate on soccer.
She will play fullback for the Kiwis, but is also a skilled wing and mid-fielder.
Sophie has taken the field in Fiji, Australia and Los Angeles but says representing her country is her biggest accomplishment to date.
"It's fun playing overseas and is a really good experience.
"I feel quite proud when we run out and they play our national anthem and we sing it."
Training with team-mates who were from around the country was another highlight.
"You make some good friends, which is great."
Soccer takes up most of life, apart from school work and Sophie says practice makes perfect.
"You have got to practice. I practice everyday and do extra work on my fitness."
In the meantime Sophie has high hopes for the future.
"I want to make the national women's team and hopefully get a scholarship to go to America."
Mum, Rachelle, says Sophie is highly competitive and likes to win.
"She used to play soccer in the backyard with her brother and sister and has just progressed."
Last year they travelled to Auckland two or three times a week, she says.
"It's been hard, both financially and time-wise, due to travelling but it's all been worth it. I am very proud of her and I've shed a tear or two over her achievements."
The New Zealand Under 17 team will play Paraguay, Spain and Japan in a bid to make the quarter finals. The first game kicks off on March 16.