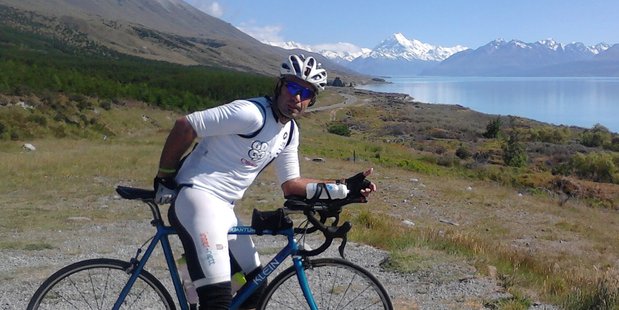 Fraser Sharp will not be among the front runners at the gruelling Ironman New Zealand in Taupo next Saturday.
There will be no special attention paid to him.
Many hours after the winner has burst through the tape on the finish line, the 37-year-old will be toiling away, kilometre after painful kilometre, hoping to finish in less than 10 hours.
But what is special about Sharp's story is what he has achieved after he was so nearly killed on a training ride on his bike in 1993. The crash left him in an extended coma with severe injuries to his body and brain, and he had months of learning to walk and talk again and was left with irreparable frontal lobe damage.
Life has been a challenge since then. Today, he still battles with the physical effects of the accident, is unable to drive and struggles to find work to support himself.
But regaining his passion for cycling three years ago gave him a new lease of life. He took up triathlons and has completed the Port of Tauranga Half, Auckland Half Ironman twice, and last year he took on the beast that is Ironman New Zealand in Taupo and beat it.
Sharp is confident he can do well at next week's challenge, especially after taking up an offer from a friend to spend time training in Twizel. "I feel I am above where I was last year in preparation and the Go2Max team and my coach, Walter Thorburn, have helped me so much," Sharp said.
"The relaxed atmosphere and the people were great down there. Twizel has some altitude at about 600 metres above sea level which is beneficial to you. I love training in Tauranga and I love the sunshine, but Twizel was helpful."
Sharp has a new bike, which he hopes will make a big difference with getting his cycle leg time down in Taupo.
"I have stuck through thick and thin with my old Klein bike for 21 years but, boy, what a difference to be on a Cervelo P5, one of the fastest up-to-date bikes in the world. I wanted to get back to where I was before my accident. The new bike rides like a dream and is marvellous."
Typical of his never-say-die attitude, Sharp has set his goals higher than Taupo. He has applied to the World Triathlon Committee for a wildcard entry into the Ironman World Championship in Kona, Hawaii, in October.
"Competing at Kona fulfils a dream to compete at the highest level possible and push understanding of what I am capable of. I am realistic about my situation. I know that my mobility is slowly deteriorating and will continue to do so. To complete Kona with the best fitness I have within my reach, I recognised the sooner the better.
"The biggest thing for me at the moment is just surviving. I don't have sponsors so it is hard for me to get by.
"I am just Fraser. I just get on with it. If I can inspire people who have been in similar places to myself or worse, to get up and see light at the end of the tunnel and to push them further, then that's great."
For more information or to support Fraser go to facebook.com/FraserSharpAnythingIsPossible.