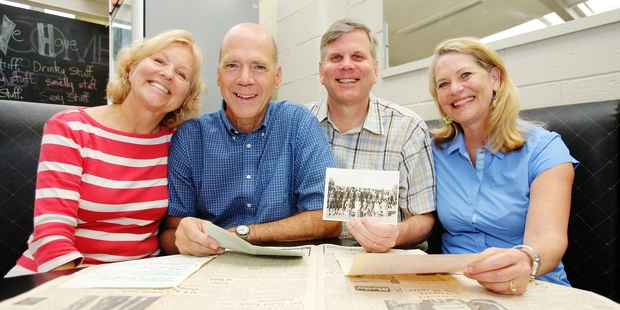 When two American basketballers travelled to New Zealand in the 1970s they had no idea of the bond they would make with each other or the impact it would have on their lives.
Dave Hansen and Jim Brown first visited Tauranga in 1971 on a tour organised by Tauranga Basketball Association in collaboration with an American Christian organisation called Young Life.
The pair, who both played basketball from a young age, have been back in the Bay this week.
Twelve young men, from different parts of America, were selected to go on the six-week tour in 1971, which involved basketball clinics, games and camps in New Zealand and Australia.
Seattle basketballer Jim Brown said his first trip to New Zealand was "life changing".
"New Zealand unlocked something in us and gave us a heart for the world that we would not have had otherwise.
"We say we had to go all the way to New Zealand to understand what our purpose in life really was and for us it's a dream to come back to this beautiful city to see how much it has grown, developed and prospered.
"To stand on the very ground that we were 43 years ago.
"Serving and teaching young people ... that's what both Dave and I have committed our lives to do all over the world."
Mr Brown is the director of an international NGO Global Helping Hands and Mr Hansen is the CEO of Students International.
"We were given opportunity to go into local schools to play basketball, do clinics, and play the local school teams," Mr Brown said.
Neither of the men had ever been outside the United States when they got their first passports to come to New Zealand.
"I didn't even know where New Zealand and Australia were," said Mr Brown. "But I have always promised to my wife Becky, that I would bring her to what I have always thought ... the most beautiful country in the world."
Southern California basketball player Dave Hansen said Tauranga Basketball Association wanted to foster local knowledge of the American game when they visited numerous schools in Tauranga and Te Puke.
"We came to learn and teach, they wanted to further develop basketball, through good will, it wasn't like come to beat up on the Kiwi teams. Young kiwis grow up playing rugby and we grow up playing basketball," he said
The pair agreed their fondest memory of being in New Zealand was being given six or seven blankets each and hot bottles during their mid winter stay.
"I had no idea what to do with it but it was the most unbelievable sleep," Mr Brown said .
The two men are looking to reconnect with people they met during their 1970s tour.
Email Dave on dhansen@stint.com