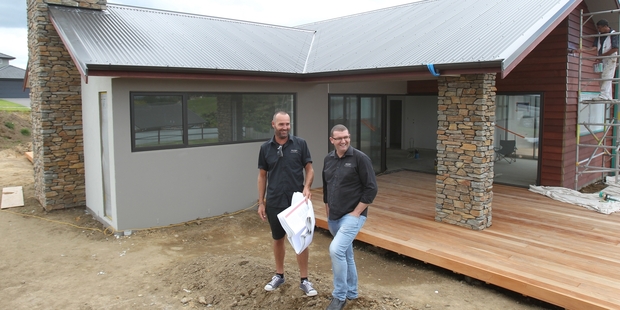 Building consents continue to climb in Tauranga as the city's new-home building boom continues.
The Reserve Bank's December decision to make new builds exempt from loan-to-value ratio (LVR) has further boosted the building industry after a surge of interest last year, increasing demand from first-home buyers and young families.
Tauranga City Council issued 152 building consents in December, up 31 per cent on the same month the previous year.
Consents issued in January were up 12 per cent on last year and increases have been recorded every month since August.
Peter Cooney, director of Tauranga-based Classic Builders, told the Bay of Plenty Times sales continued to be strong and he anticipated that continuing.
The Reserve Bank's LVR exemption for new home builds had definitely had an impact, he said.
"People who would be looking at buying existing homes and can't afford [the deposit] are now looking at new homes."
As well as young couples and families, a cross-section of people including middle-aged, elderly and out-of-towners were now choosing to build, Mr Cooney said.
The Lakes, Golden Sands, Coast Papamoa Beach and the Santa Monica development near Palm Beach Plaza were all popular.
But demand for new homes was dependent on interest rates, availability of land and land prices, Mr Cooney said.
"If developers start pushing prices too high it will reflect in a slow-down. When we get a really busy market like this, and it starts to become more robust, prices go up and affordability becomes an even bigger issue. When the market starts to get strong, affordability starts to get out of reach."
Demand for construction nationwide was putting pressure on resources and causing price increases, Mr Cooney said.
"It's certainly very positive but we get the same old cycle again, prices start escalating. We like to see it consistent, rather than a surge like what we are seeing."
Signature Homes owner Craig Williams said inquiries since Christmas had been at a record high and sections were being snapped up quickly.
Enquiries had dropped off when the LVR restrictions came in on October 1, and had surged again from young families since the restrictions were dropped for new builds.
"A lot of people have been unable to find a home that they want and building has become a real option for them."
Buyers from Auckland and Christchurch were also boosting business, and he expected to see more growth this year.
The Lakes and Rowesdale were popular sites, and Signature was building a new show home at Coast Papamoa Beach to capitalise on the subdivision's growing popularity.
Golden Homes general manager Saint Whatuira said enquiries were strong in all sectors, from spec houses to first-home buyers.
"I can't see it slowing down this year or next year. The spec market is starting to increase, and the second or third home buyers seem to be coming in as well.
"In Golden Sands, we are getting first-home buyers.
"We are getting a lot of inquiry, especially from Auckland."
Jennian Homes Bay of Plenty sales manager Mark Affleck said sales picked up a year ago and the momentum had continued.
Demand for new-house builds was driven by a lack of quality housing stock, he said.
"We get a lot of people who are looking for existing homes, struggling to find something they like, so they are coming to see companies like us.
"Building and buying, you are talking about similar money.
"But with the changes of the Reserve Bank you don't have to have such a big deposit if building versus an existing home.
"We are expecting we will see more and more first-home buyers looking at the building option."
Jennian was building a show home at Golden Sands and expected to see an increase in younger buyers keen on that area, he said.
The company had been building all over the Bay, with plenty of interest at Omokoroa, and projects as far afield as Waihi and Matamata, as well as the Lakes and Katikati.
GJ Gardner Tauranga franchise owner Kirsty McConnell said demand had strengthened over the past six months but was still sensitive to potential changes in interest rates and lending criteria.
Demand was being driven by more economic confidence in general, which had translated to income security and ability to commit to building.
Clients were a cross-section of young families, retired people and people new to the area.
"The most significant change would be in the increased demand for executive homes, especially from couples and families moving down from the Auckland region.
"There continues to be higher levels of interest from up north and overseas shifting to the Bay."
Papamoa East had seen a strong lift in activity, with Welcome Bay, the Lakes and Bethlehem also popular.