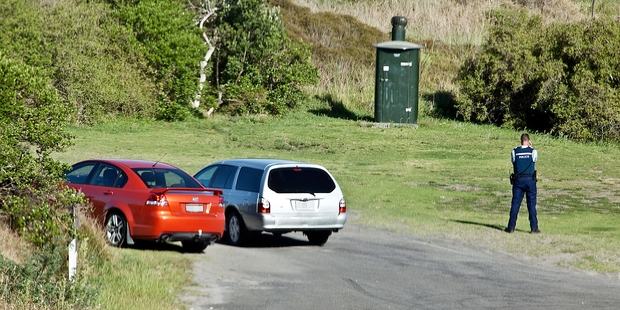 A woman who drowned at Pukehina Beach while trying to save her partner had been safely swimming at the beach hours before, according to a witness.
Frances Webster, 53, died shortly after being dragged unconscious from the surf by rescuers at the beach, near Rogers Rd, on Saturday afternoon.
Ms Webster had jumped into the sea to help her 45-year-old partner, who was caught in a rip about 100m from shore.
A jet skier and emergency rescue crews with lifesaving buoyancy aids all tried unsuccessfully to save Ms Webster as she struggled in the rough conditions.
Fisherman Ian Burgess, of Rotorua, saw the tragedy unfold.
He spotted a fishing rod bent over on its own further along the beach. When he walked toward it he saw a man in trouble in the surf, yelling for help.
The sea conditions, which had been relatively calm, got increasingly worse as the tide changed and the wind got up, he said.
"I thought 'he is in big trouble' - the waves were charging in on him and I got pretty concerned and rang 111."
Mr Burgess then saw Ms Webster swim out to help.
"She couldn't quite reach him because of the rough sea and they started to both get into trouble."
A Pukehina Volunteer Fire Brigade rescuer with a buoyancy belt swam to the man but was unable to reach Ms Webster, he said.
Volunteer firemen on shore tried to throw a rope to Ms Webster as she swam on her back towards the beach. "We just couldn't get the rope close enough to her," Mr Burgess said.
A jet skier was thrown off and separated from his jet ski when he tried to rescue the couple.
Ms Webster was eventually brought back to shore unconscious, he said.
"The rescue people worked on her for around 20-25 minutes but were not able to save her."
Her partner was helped back to shore on the retrieved jet ski.
"It was a really tragic thing to happen," said Mr Burgess.
"Only a few hours beforehand the conditions were quite safe and the couple had been happily swimming [at] the beach."
Rescuers say the woman's partner was distraught and close to death himself when they pulled him from the rip.
Pukehina volunteer fire brigade senior firefighter Ivan Burgener said it was immediately obvious how dire things were when they arrived after someone raised the alarm.
"When we got there we saw two people out there and one of our swimmers went out with a life tube. He went to the guy first because he was the only one moving around," Mr Burgener said.
The man had taken on some water and was "certainly on limited time".
"He was getting near to drowning himself really. He had to be assisted out of the water and he wasn't walking around afterward."
Mr Burgener said the rip and holes made the rescue extremely difficult and eventually six firefighters, especially trained for water rescues, went into the sea to save the couple.
Ms Webster's death has been referred to the coroner. Her family declined to comment yesterday.
The drowning came just hours after a 61-year-old man was killed after the motorcycle he was riding failed to turn a bend on State Highway 2, Papamoa.
The man was Christopher Neil Solomann, from Gisborne.
Western Bay of Plenty police Sergeant Mike Owen said police were investigating the crash.
Mr Solomann had been travelling along SH2 on the Tauranga-bound bypass at Domain Rd when his Honda hit the kerb and crashed into a bank.
Mr Owen asked that anyone who witnessed the crash, or had information about a red sports bike between Te Puke and Papamoa at about 1pm on Saturday, who have not already been spoken to, contact the Tauranga police station on (07) 577 4300.