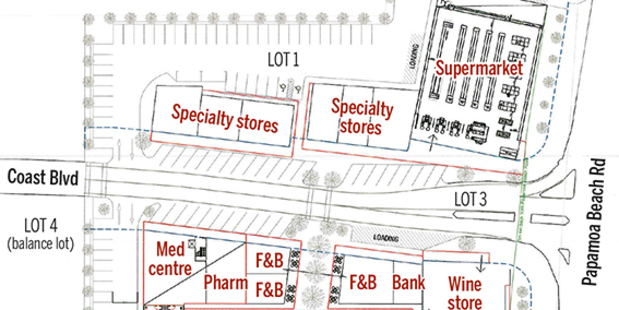 A Tauranga developer has warned that the popularity of a planned shopping centre at Papamoa could be undermined by a shortage of carparks.
David Holland, a retired surveyor, was speaking at a hearing yesterday in which Coast Papamoa Beach has applied to the Tauranga City Council to expand the subdivision's planned shopping centre by nearly half.
Mr Holland said he applauded the overall architecture but argued there were not enough carparks to avoid flow-on effects
He highlighted a consultant's report that came out with the original documents that said there would be a shortfall of 20 carparks. A planner's assessment of environmental effects said carparking did not comply with the City Plan.
Mr Holland said the council had used its powers to reduce carparking requirements by up to 25 per cent in order to take account of such transportation factors as bus services.
He argued that any overflow from the carparks could not be accommodated in areas neighbouring the shopping centre.
This meant there was a risk that people would be put off using what was meant to be a convenience shopping centre.
He said the roading layout of Coast Papamoa's residential area next to the shops meant it could not accommodate an overflow. In addition, Papamoa Beach Rd was largely yellow no-parking lines around the entrance to Coast Boulevard, and Sandhurst Drive was too far to walk.
Mr Holland also challenged the floor area of the mini supermarket, saying that the carparking requirements had not taken account of the supermarket's 150 sq m mezzanine floor.
Solicitor Kate Barry-Piceno, representing Coast developer Frasers Papamoa, said the supermarket was part of the consented development - the application was for an additional 880 sq m of floor space.
She said that the carparking requirements had been 'thoroughly considered". The number of carparks exceeded the requirements by one park.
Ms Barry-Piceno said that even if Mr Holland's nightmare scenario came true, the economic impact on businesses could not be considered as an adverse effect under the Resource Management Act.
She opposed the suggestion by the hearing's independent commissioner Alan Watson that any consent could include a condition that enabled the council to review the parking once they saw how it was running.
Mr Watson reserved his decision on the application to expand the retail complex by adding a medical centre and pharmacy, three specialist stores and two small cafes or restaurants.