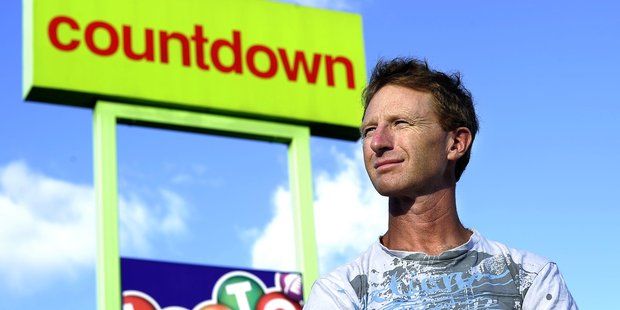 Support for a Facebook page started by a Tauranga man urging shoppers to boycott Countdown supermarkets quadrupled yesterday.
The Facebook page, "Boycott Countdown", was started by Nevan Lancaster a week ago, in response to Countdown's Australian parent company, Woolworths Ltd, dropping New Zealand suppliers from some of its own brand product lines in Australia, in favour of Australian suppliers.
A story about Mr Lancaster's campaign was posted on the bayofplentytimes.co.nz website yesterday.
The number of "likes" leapt from 1000 on Wednesday to more than 5500 last night after Labour's outspoken economic development spokesman, Shane Jones, made his claim of a "Countdown shakedown" under parliamentary privilege.
The page gained 150 new "likes" in the 20 minutes after the story was aired on the television news last night and was still rising when the paper went to print.
Mr Lancaster said the decision to drop New Zealand suppliers was unfair.
"It just sticks in the craw a bit. I believe in free trade but it's got to be fair as well."
Mr Lancaster wanted people to stop shopping at Countdown and instead give their grocery dollar to locally owned producers and suppliers.
"Basically if our goods are not good enough to be sold to Australians, then the company is not good enough to sell to us," Mr Lancaster said.
"Go to your local butcher, green grocer and supermarket."
The page gained momentum after Mr Jones made his claim of a "Countdown shakedown".
He told the House several New Zealand suppliers had told him the supermarket chain was demanding payments, back-dated cheques and recompense from Kiwi businesses for the supermarket's losses last year.
"And if they don't pay these cheques, they are being told no shelf space into the future.
"In any other sort of country that's blackmail, that's extortion," Mr Jones said.
Prime Minister John Key yesterday joined the fray, saying he would welcome a Commerce Commission inquiry.
"I think it's a good idea for the Commerce Commission to look at that," he said.
Katherine Rich from the Food and Grocery Council confirmed the organisation was aware of "a number of incidents where our member companies have been asked for retrospective payments".
Progressive Enterprises managing director Dave Chambers has denied Mr Jones' claims.
He said his company would fully co-operate with any inquiries from the Commerce Commission.
"There's been some suggestion from the Food and Grocery Council that there are some issues from suppliers. We'd expect that. We have 1200 suppliers. Any store has about 20,000 products. Every day of the week we're having discussions with suppliers. Those are robust, but I believe they are transparent and fair."
A Bethlehem Countdown shopper said it would be "okay" to ask suppliers to pay up more.
"The shelf space is like advertising and putting them in customers' hands."
Street View: Countdown has been accused of blackmailing New Zealand suppliers into paying to keep their products on its shelves - what do you think of these allegations?
"People can run their businesses their own way and consumers can choose where they shop but it does sound a bit harsh."
- Stephen Murray, 45, Tauranga
"Suppliers should get together and organise a co-op and therefore, as members of a co-op, submit produce only to New Zealand wholesalers."
- Keith Bayne, 72, Tauranga
"It's absolutely outrageous and ridiculous."
- Rae Beattie, 71, Greeton
"They sell space to their suppliers, what doesn't get sold is responsibility of that supplier, but somebody is making an awful lot of money."
- Christine Driscoll, 55, Omokoroa
" I do go to Countdown to use my onecard but prefer to go to Pak N Save so I won't go there anymore."
- Charlene Thomson, Tauranga