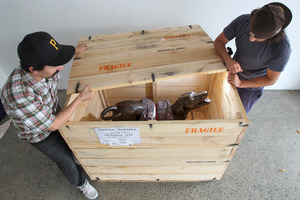 Fundraising for the installation of statues of Hairy Maclary and his eight bronze friends on the Tauranga waterfront has taken a leap forward, thanks to a $100,000 donation from City Care.
The sculpture of Bottomley Potts was being flown up from Wellington to be on show when the cheque was presented to Creative Tauranga this afternoon.
Creative Tauranga chief executive Tracey Rudduck-Gudsell was thrilled by the generous donation.
"I have been walking on air ever since I got the news that City Care wanted to support the Hairy Maclary project. City Care's gift is a fabulous boost to the project and we are very proud to welcome them as a foundation partner of the project and to the project family."
City Care general manager of national maintenance Tim Gibson said the company was delighted to support the $700,000 project.
"Maintaining New Zealand's cityscapes and green spaces is key to our business, so it makes good sense to contribute to such a worthwhile public asset for the community.
"It's also fitting for the City Care brand to be cast in bronze alongside Dame Lynley Dodd's beloved characters, as City Care has a proud history of looking after many of New Zealand's iconic environments," he said.
Another $221,000 now needed to be raised to cover the cost of the statues and installation.
"We're trying to get through that last leg so we can get them in the ground, by Easter would be really nice," Ms Rudduck-Gudsell said.
Donations had come in from all over the country including kindergartens in Wanganui and Invercargill, she said.
"We've had some really generous, out of the blue donations come through the door."
Fundraising for the project had been hampered by the financial climate and Canterbury quakes over the past three years, Ms Rudduck-Gudsell said.
In September, Tauranga City Council waived the $150,000 maintenance bond for the statues, which had brought the total to $850,000 but, months on, they remain in storage in Wellington until the underwriter for the project is paid in full.
The sculptures, created by foundryman Jonathan Campbell, mouldmaker Marco Wuest and sculptor Brigitte Wuest, took just over a year to make.
They will take four to six weeks to install on the waterfront.
Bottomley Potts would be on display to the public at Creative Tauranga Community Gallery for a week from Friday.
The gallery is open from 9am to 5pm weekdays and 10am to 3pm weekends.
To make a donation go to www.hairymaclarysculptures.org.nz or www.givealittle.co.nz or visit the Creative Tauranga office on Willow St.