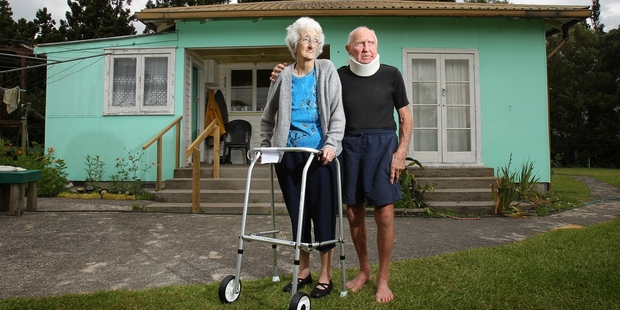 A drink driver has dealt a devastating blow to the once spirited lifestyles enjoyed by an elderly Katikati couple, leaving them virtually housebound.
Harry and Inez Johns were driving to their dancing group when a woman who had consumed a bottle of wine climbed behind the wheel and crashed into them.
They will never forget that horrendous moment that crushed their bodies and left them counting the months, and maybe years, before they will be able to take another spin around the dance floor.
The crash nearly cost 80-year-old Inez her life, leaving her with such severe injuries that she was only released from Tauranga Hospital on Tuesday - exactly 10 weeks after the accident on the road that led to their farmhouse.
Her husband still wears a brace to support his broken neck.
"It snapped like a carrot," said the gritty 85-year-old who, until that life-changing day on November 26, was a well-known figure around the district, shearing lifestylers' sheep.
"And it's all because of booze," he said.
It has been a slow recovery for Harry since he returned home on January 2, with the news not particularly encouraging from his latest x-ray.
"They said it was still very unstable."
Inez was forced to lie still on her hospital bed for nearly a month because of the risk of paralysis from a fragment of burst vertebrae.
She then had to virtually learn how to walk again.
"I was like a new-born calf trying to get my feet to go in the right direction."
The couple said the drink driver has had a devastating impact on their lives.
"It's horrendous. We used to dance twice a week and now I can't do anything but walk around with a stick or walker," she said.
Their plight led to daughter Raewyn quitting her job at Gisborne and going to live with them until they were able to look after themselves.
What should have been a little ray of sunshine in their lives on Christmas Day turned into more grief when Raewyn crashed her car as she was driving across to join them for lunch at Tauranga Hospital.
"It was a bloody shock to us," Harry said recalling the moment they were informed about the accident near Opotiki.
Raewyn's crash in wet weather happened when her car hit an oil slick as she was taking a corner, spinning out of control and plunging down a bank. She rang family in Tauranga to pick her up and made it to hospital to see her mum and dad, only to end up in the Emergency Department when she started showing signs of whiplash.
"It was a sad Christmas. We can laugh about it now but it wasn't funny at the time," she said.
Her normally resilient parents also confessed to another sad time for the family when Inez had to celebrate her 80th birthday in hospital, although nurses did all they could to make it a happy occasion on the rooftop garden.
They had planned to celebrate her January 29 birthday at The Domain in Omokoroa: "It brought a tear to my eye," she said.
The upside to her "hard journey" back from the crash was that she was at least alive for her birthday, despite also suffering a fractured sternum, constant vomiting and irregular heart rhythms.
"The doctors were really worried about me. I had several nights of difficult breathing."
The Johns have lived in their modest Stewart Rd farmhouse for 44 years, during which time Harry's main income had been from shearing sheep.
"I was shearing right up to the accident."
The other vivid memory of the accident was when their near-new car's air bags were activated. No one told them that air bags vented gas and they assumed it was smoke.
"I thought the car was on fire," Inez said.
She reckons it will be 12 to 18 months before they will be able to return to dancing.