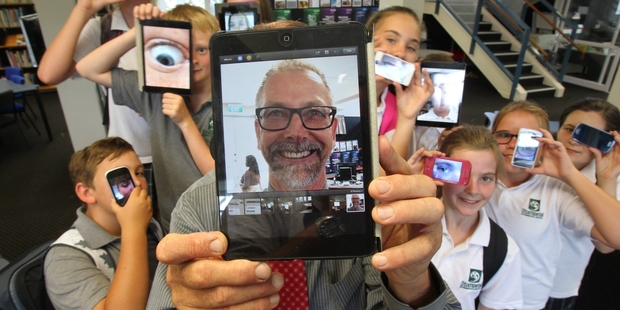 Schools in the Western Bay are relying heavily on TECT and other grants to keep up with the rising cost of technology demands, as most try to spare parents the costs of rapidly evolving technology.
The Bay of Plenty Times Weekend approached all schools in the Western Bay about their use of technology in classrooms, equipment available, and demands placed on parents to provide devices.
All schools spoken to by the Bay of Plenty Times Weekend agreed that use of computers, tablets and even smartphones was necessary and beneficial as a learning tool in today's technology-savvy world - and it's changed the way children are taught.
None of the schools that responded expected parents to provide technology, although a BYOD - bring your own devices - policy is becoming increasingly popular.
Te Akau Ki Papamoa School made nationwide headlines this week after the Bay of Plenty Times reported the school had provided an iPad for every one of its senior students.
Most schools provide PCs, laptops and tablets for student use - as well as laptops or tablets for teachers.
At Brookfield School, principal Robert Hyndman said the cost of providing four iPads and four computers in each class was met only because of community grants.
"In Tauranga, schools are very fortunate to have the support of TECT. Their support greatly reduces the cost to schools. We also appreciate the support of various lottery foundations. However, there is still a cost to the school of several thousand dollars."
St Thomas More School principal Kath Joblin agreed, and said the school would be "in difficulties" if it weren't for grants from charitable organisations.
The operations grant from the Government provided for just 5 per cent of the total cost spent on IT.
PTA fundraising and a component of the school donation also helped pay for technology.
Welcome Bay School principal Nik House said the cost placed a huge demand on schools, and grants and external sources of funding were important.
The fast evolving nature of technology was putting financial pressure on both families and schools as they tried to keep up with progress.
"I'm not certain if parents feel a pressure from school, but as a parent I can attest to the fact that there is pressure regarding technology on the home front."
Kaimai School principal Dane Robertson said his concern with asking parents to provide devices was a "have and have not scenario".
"For many families free education is becoming more and more expensive. As a school we try to keep costs to a minimum and access to all."
The school relied on community grants to cover costs - TECT grants covered half the initial costs of providing one-on-one laptops. Lions Foundation, Perry Trust, Bay Community Trust and Pub Charities had also given grants.
"If we had to replace all our equipment at once we would be looking at a bill of almost $100,000."
Te Puna School principal Neil Towersey said the cost to the school of replacing and buying new technology was $20,000 to $30,000 a year.
It was easier to control the code of practice and settings if the school provided the equipment, he said.
Otumoetai Intermediate has a big up-take of BYOD - last week 73 per cent of students arrived at school with either a smart phone, tablet computer or laptop.
The remaining students also had access to the internet through school computers and iPad minis.
The school does not specify what make or model of device students should bring.
Principal Henk Popping said the school was conscious of financial demands on parents, and had kept school fees lower than other schools to allow parents to purchase a device.
Providing computers in every classroom, a robust wireless network and a pod of iPad minis had cost the school more than $100,000 - some covered by TECT grants.
Papamoa College has also adopted BYOD - but principal Steve Lindsey said there was no pressure on parents to provide devices. The school provided access to technology after school to ensure no students were disadvantaged.
The cost to the school was large.
"People need to appreciate that digital devices require robust network systems and hardware. Providing up-to-date and quality servers, switches, wireless apps, etc., all add up to a significant financial investment."
Tauriko School principal Suzanne Billington said maintaining and replacing devices was an on-going issue for all schools - and school operations grants failed to cover the costs.
The school could not provide technology - including PCs, laptops and iPads - without the support of trusts, she said.
While BYOD was not compulsory, parents who planned to buy a device for home were perhaps choosing school-approved ones.
Tauranga Boys' College deputy principal Richard Hall said the school was working towards a ratio of one computer for every two students - a huge investment for a roll of more than 1750 students.
The school had 850 tablets, computers and laptops for student use.
The cost was significant, including two staff to build and maintain technology.
Although the school does offer BYOD for senior students, there was no demand or request made to parents.
But Mr Hall suspected parents felt pressured by their children to provide devices for social networking, as more students had smart phones.
Otumoetai College has a ratio of one computer or tablet for three students to ensure there is equal opportunity.
Principal Dave Randell said computers were replaced every five years and it was a huge financial commitment for the school.
Aquinas College principal Ray Scott said the school aimed to provide sufficient devices so that students who did not have their own were not disadvantaged.